New from the Royal Canadian Mint is its latest release in a very popular coin series, the 2014 $20 Summertime Silver Coin. This coin is the 13th issue from the Mint's Exchange $20 for $20 program which features 99.99% pure silver coins sold at their legal tender face values of $20.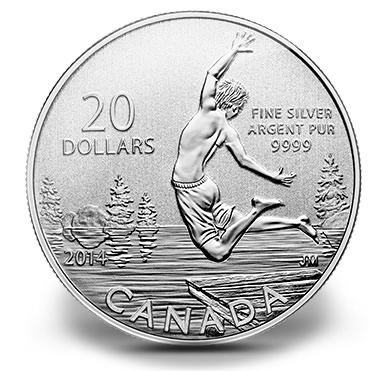 Designs of 2014 $20 Summertime Silver Coin
Created by Canadian artist and illustrator John Mantha, the $20 for $20 Summertime Silver Coin showcases a reverse design that captures the spirit of summer. Shown is an image of a joyful boy jumping high from a dock before splashing into a lake.
Around the scene are inscriptions reading: 20 DOLLARS, FINE SILVER ARGENT PUR 9999, CANADA, 2014 and Mantha's initials of JM.
Obverses bear Susanna Blunt's effigy of Queen Elizabeth II with inscriptions of ELIZABETH II and D.G. REGINA.
Mintages of $20 for $20 Silver Coins and Sellouts
This coin features a mintage of 200,000, which is 25,000 fewer than the four previous issues, coins 9 through 12, and 50,000 less than earlier releases, coins 2 through 8. The first coin of the $20 for $20 program also had a mintage of 200,000 and it sold out quickly. Subsequent coins saw higher mintages to help extend sellout times.
The last couple of releases are taking longer to reach sellouts, and that likely explains the lower mintage for the Summertime Silver Coin. Generally, coins with lower mintages are more attractive to collectors. Still available are this year's first two coins. The 2014 $20 Canada Goose Silver Coin is at 97% of sales while the more recent 2014 $20 Bobcat Silver Coin is at 88% of sales.
$20 for $20 Silver Coin Specifications and Silver Melt Values
Coins of the Exchange $20 for $20 program are produced to a weight of 7.96 grams and a diameter of 27 mm. The weight equates to a tad over one-quarter troy ounce of silver (0.25592 troy oz.).
At that silver weight, every coin in the program has an approximate melt value of $4.92 based on today's London silver Fix price of $19.25 an ounce. That is down from the time when earlier coins launched. Their lower melt value due to weaker silver prices is another factor that could be slowing sales of these later issues.
Past and Upcoming $20 for $20 Silver Coins
The Mint's series of $20 for $20 coins are listed below in order of their release:
2011 $20 Maple Leaf
2011 $20 Canoe
2012 $20 Polar Bear
2012 $20 Queen's Diamond Jubilee
2012 $20 Farewell to the Penny
2012 $20 Magical Reindeer
2013 $20 Hockey
2013 $20 Wolf
2013 $20 Iceberg
2013 $20 Santa
2014 $20 Canada Goose
2014 $20 Bobcat
One more coin in the program is scheduled to launch later this year. Entitled "Holiday Candles," it will be released in October 2014.
Ordering Information
Currently, the 2014 $20 Summertime Silver Coin is is available only for pre-orders to Royal Canadian Mint Master's Club members. These are customers who have spent more than $999.99 CAD in RCM products in a consecutive 365 days based on the first date of purchase. Ordering should open for everyone shortly. The coin in US dollars is about $18.22.
Update: Anyone can now order the coin.
An affiliate link to the Mint's page of $20 for $20 silver coins is found here
. Master Club members must be logged in to see the Summertime silver coin.
A household order limit of three coins is in place.
$20 for $20 Coin Subscription
2014 $20 for $20 Silver Coins are also available via subscription. Enrollees of the subscription program will receive the new coins as they are issued.