Already for pre-sale on the secondary market for as high as $100, the United States Mint today, Jan. 23, began selling its 2014-W Proof American Silver Eagle for $52.95.
That price is available to anyone who orders online at www.usmint.gov/catalog. In a better bargain, U.S. Mint subscribers pay $5.30 less, or $47.65.
Struck at the West Point Mint with a proof finish and a denoting "W" mint mark, the one-ounce 99.9% silver coin will fly off store shelves. U.S. Mint sales during the first week will reach around a quarter of a million with final sales at least three times higher, based on the performances of past issues.
This year's proof Silver Eagle will be the Mint's most popular collectible coin. It and its sister coins are ordered throughout the world. The version intended for investors, the bullion American Silver Eagle without the proof finish and "W" mint mark, launched on the 13th and already has sales of almost 4 million.
Both versions date back to 1986 when they were introduced alongside American Gold Eagles. Proof American Silver Eagles have appeared annually ever since, with the exception of 2009. That year the U.S. Mint canceled sales as it directed silver blanks toward bullion production to better fulfill demand.
Regular Price vs. Subscription Pricing
Bullion Silver Eagles tend to go for a few dollars per coin over spot while proof Silver Eagles carry much larger premiums as collector coins.
Using today's London silver fixing of $20.11 an ounce, the 2014-W Proof American Silver Eagle has a premium of $32.84 at regular pricing and a premium of $27.55 at the 10% discounted pricing for subscribers.
The Mint's Online Subscription Program, which is open to anyone, lets you sign up to automatically receive popular collector products. American Silver Eagles are among a select group of subscription products that also offer a 10% discount from the regular price.
Pre-Sale Prices
Touching quickly on pre-sale prices mentioned earlier, many collectors like to acquire American Silver Eagles that are authenticated and graded by third party services like the Numismatic Guaranty Corporation (NGC) and Professional Coin Grading Service (PCGS).
Coin dealers and others are pre-selling top "70" graded 2014-W Proof American Silver Eagles for almost double the Mint's regular issue price. Those prices will fluctuate depending on demand, the availability of top grades and eventual mintages.
US Mint Ordering Information
Every 2014-W Proof American Silver Eagle is individually encapsulated, placed in a blue velvet, satin-lined presentation case, and comes with a United States Mint Certificate of Authenticity.
Place orders through the U.S. Mint's online product page, or by calling 1-800-USA-MINT (872-6468).
These proof coins have no household ordering limits. Demand determines their final mintage.
American Silver Eagle Designs and Coin Specifications
Whether bullion or collector versions and regardless to the year issued, American Silver Eagles have the same obverse and reverse designs. Found on the obverse is the Adolph A. Weinman depiction of "Walking Liberty." Weinman's design first appeared on half-dollars form 1916 to 1947. Inscriptions around the design read: "LIBERTY," "IN GOD WE TRUST" and the year of issue.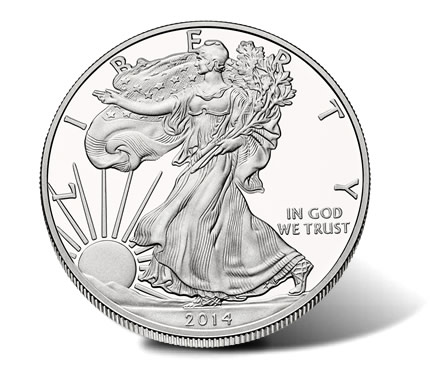 Designed by John Mercanti, the reverse offers a heraldic eagle with shield. Encircling the design are inscriptions reading: "UNITED STATES OF AMERICA," "1 OZ. FINE SILVER" and "ONE DOLLAR."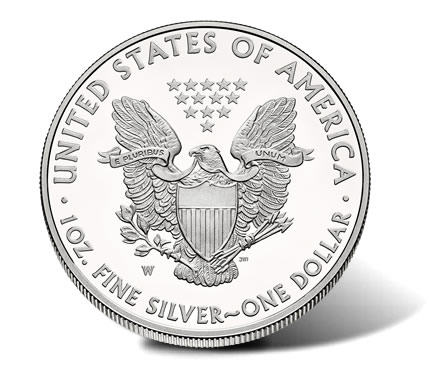 Proof American Silver Eagles originate from the U.S. Mint facility in West Point. Bullion American Silver Eagles are produced without mint marks at the U.S. Mint facilities in San Francisco and West Point.
Coins in the series have a reeded edge, a diameter of 1.598 inches (40.60 mm) and a weight of 1.000 troy ounces (31.103 grams).
2014 American Silver Eagle Products
Last week, on Jan. 14, 2014, the U.S. Mint released its 2014 Congratulations Set for $54.95. It actually marked the first appearance of the same proof described in this article. As the product name implies, it's a gift set that includes celebratory-themed packaging and a folder with an area to write a personal message. The set opened with first week sales of 692.
Bullion 2014 American Silver Eagles debuted on Jan. 13, 2014 and have sales of 3,969,000 through to Wednesday, Jan. 22, 2014.
In upcoming collector products with an American Silver Eagle:
the 2014-W Uncirculated American Silver Eagle launches in April for $43.95,
the 2014 Limited Edition Silver Proof Set launches in May for $139.95, and
the 2014 Annual Uncirculated Dollar Coin Set is available in July for $44.95
The 2014 Limited Edition Silver Proof Set has a proof Silver Eagle and six 90% silver coins to include the five 2014 America the Beautiful Quarters, a 2014 Kennedy half-dollar and a 2014 Roosevelt dime. The 2014 Annual Uncirculated Dollar Coin Set has an uncirculated Silver Eagle along with an uncirculated 2014 Native American and four uncirculated Presidential $1 Coins.
Sales of Products with 2013-W Proof American Silver Eagles
To get a sense for the proof coin's popularity, last year's individually packaged 2013-W Proof American Silver Eagle sold out with final U.S. Mint reported sales of 868,494.
This 2013-dated American Eagle is also inside the still available 2013 Congratulations Set, which has sales of 15,739, and the 2013 Limited Edition Silver Proof Set, which has sales of 34,447.