At noon time today, Dec. 3, 2013, sales began for the third of five 2013-dated Presidential $1 Coin and First Spouse Medal Sets from the United States Mint. This one honors William Howard Taft and his wife Helen, the 27th President and First Lady.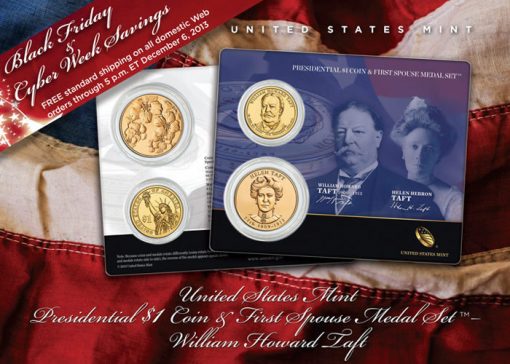 An uncirculated 2013-P William Howard Taft Presidential $1 Coin and a Helen Taft bronze medal, which bears the likeness of her just released First Spouse Gold Coins, are mounted on a durable plastic display card. The front of the card is embellished with their two portraits and signatures, while the back side cites respective issuance and descriptive information.
Taft Presidential $1 Coins launched on July 9, 2013 in various roll, bag and box products at prices ranging from $32.95 to $550.95. The same coin within this new set is also available in other U.S. Mint products, like the Annual Uncirculated Dollar Coin Set for $44.95, the U.S. Mint Uncirculated Coin Set for $27.95, and the Presidential $1 Coin Uncirculated Set for $16.95.
While the Helen Taft First Spouse Bronze Medal will not be for sale individually from the Mint, it will be part of the 2013 First Spouse Bronze Medal Set that is scheduled for release on Dec. 16, 2013 and priced at $16.95.
As for the proof and uncirculated First Spouse Gold Coins honoring Helen Taft, the U.S. Mint released them on Monday, Dec. 2, 2013. These $10 coins contain 1/2 ounce of .9999 fine gold and sell for $815.00 for the proof and $795.00 for uncirculated. Their prices could change up to weekly, depending on gold market fluctuations.
Ordering, Saving on Shipping
Priced at $9.95, interested collectors can order the William Howard Taft Presidential $1 Coin & Helen Taft First Spouse Medal Set by visiting this U.S. Mint online page, or by calling 1-800-USA-MINT (872-6468). There is no mintage or household ordering limits.
Normally, there is a U.S. domestic fee of $4.95 for standard shipping. Buyers can eliminate this charge by ordering online which takes advantage of the Mint's free shipping through its Black Friday & Cyber Week Savings promotion that lasts until 5 p.m. ET on Friday, Dec. 6, 2013.