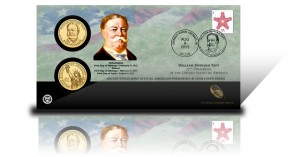 Earlier Tuesday, August 6, the United States Mint released the William Howard Taft Presidential $1 Coin Cover.
Taft was the 27th president of the United States, making this the 27th release from the American Presidency $1 Coin Cover Series.
Two William Howard Taft Presidential dollars, one coin from Philadelphia and the other from Denver, are mounted on a display card that is held within an envelope. The two coins are from the first day of production from the U.S. Mint facilities making them. The first days of production were February 11, 2013 for the Philadelphia Mint and February 6, 2013 for the Denver Mint. The coin cover also features a portrait of President Taft, and is postmarked August 6, 2013, Cincinnati, OH to mark its issue date.
Sales Expectations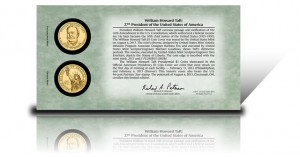 Based on past sales, orders should total around 10,000 to 11,000 units in the first week.
Helping sales is the United States Mint's Subscription Program. This program allows collectors to receive products as soon as the U.S. Mint releases them without having to place orders each time.
William Howard Taft Presidential Dollar Design
Obverses of William Howard Taft Presidential $1 Coins feature a portrait of William Howard Taft drawn by U.S. Mint Master Designer Barbara Fox and engraved by U.S. Mint Sculptor-Engraver Michael Gaudioso.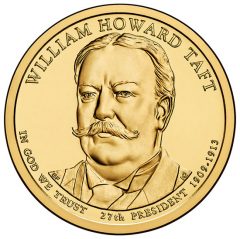 Inscriptions on this side of the coin read, "WILLIAM HOWARD TAFT," "IN GOD WE TRUST," "27th PRESIDENT" and "1909 – 1913."
The reverse side of the coin features the same image as all Presidential Dollars, Don Everhart's rendition of the Statue of Liberty. The few inscriptions read, "UNITED STATES OF AMERICA" and "$1."
Other inscriptions stamped on the edge of the coin read "2013," "E PLURIBUS UNAM," and the mint mark "P" or "D."
Ordering Details and Limits
William Howard Taft Presidential $1 Coin Covers may be ordered directly from the United States Mint's website through this:
United States Mint Product page
During this month and next, U.S. domestic orders placed on the Mint's website will ship for free. Collectors may also order by phone at 1-800-USA-MINT (872-6468), but free shipping does not apply.
This year's coin covers have a product limit of 20,000 units. There are no household ordering limits, meaning collectors can order as many as they like.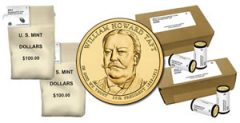 Additionally, anyone interested in William Howard Taft Presidential $1 Coins in rolls, bags or boxes can place orders for them online. Rolls are available from either the Denver Mint or Philadelphia Mint for $32.95. Bags of 100 coins are available from either facility for $111.95. The boxes are available in two quantities, 250 coins, priced at $275.95, and 500 coins for $550.95.
William Howard Taft Brief Biography
William Howard Taft was born on September 15, 1857, the son of a distinguished judge, near Cincinnati, Ohio. Taft attended Woodward High School in Cincinnati and went on, like others in his family, to attend Yale University. In 1886 he married Helen Herron.
At the age of 34, Taft was appointed as a Federal circuit judge. In 1900 he was made chief civil administrator to the Philippine by President McKinley. In 1904, President Roosevelt appointed him as the Secretary of War. Later, he was named as the Republican Presidential Nominee in 1908.
Taft won the 1908 election and served one term. Following his four years he returned to Yale as a Professor of Law. After eight years of teaching, Taft was appointed to be Chief Justice of the Supreme Court of the United States. He viewed this as his greatest achievement, and held the position until February of 1930, just one month before his death on March 8.