Today, Dec. 2, 2013, the United States Mint began taking orders for Helen Taft First Spouse Gold Coins.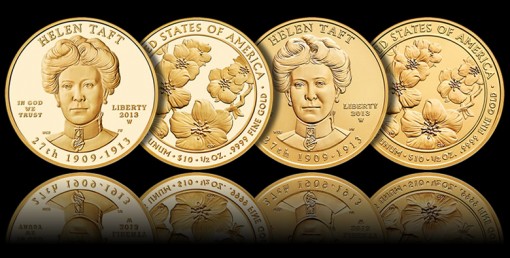 Shown on the obverse and reverse are designs celebrating Helen Taft, wife of the 27th President of the United States, William Howard Taft.
These coins are struck from 1/2 ounce of .9999 fine gold and are available in proof and uncirculated qualities. They are issued as the third 2013-dated release from the Mint's First Spouse Gold Coin Program. There are five coins this year with designs honoring:
Ida McKinley (released Nov. 14, 2013)
Edith Roosevelt (released Nov. 21, 2013)
Helen Taft
Ellen Wilson (release date of Dec. 9, 2013)
Edith Wilson (release date of Dec. 16, 2013)
Strikes of the series are typically released in longer intervals throughout the year. However, a production issue known as "finning" delayed the series this year and forced a much tighter release schedule. The U.S. Mint looks to be getting a quicker start on the 2014 First Spouse Gold Coins. Already revealed are next year's design candidates.
The spousal program debuted in 2007 and honors the spouses of the former Presidents of the United States in the order in which they served. It will continue until at least 2016.
Designs of Helen Taft First Spouse Gold Coins
Obverses of the new coins offer a portrait of Helen Taft by United States Mint Artistic Infusion Program (AIP) Designer William C. Burgard. Sculpting of the effigy was completed by U.S. Mint Sculptor-Engraver Phebe Hemphill.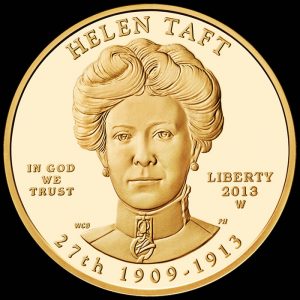 Inscriptions surrounding the portrait include HELEN TAFT, IN GOD WE TRUST, LIBERTY and 27TH with 1909-1913 representing her years of service. A 'W' mint mark is present to denote each coin's production at the West Point Mint. Also, the initials of both the designer and sculptor are included.
Coins of the series feature reverse designs emblematic of the life of the honored individual. For Helen Taft First Spouse Gold Coins, a Japanese cherry blossom branch is shown representing Helen's role in bringing the cherry trees to Washington, D.C. The reverse was designed by AIP Master Designer Richard Masters with sculpting completed by United States Mint Sculptor-Engraver Charles Vickers.
Inscriptions include UNITED STATES OF AMERICA, E PLURIBUS UNUM, $10 and 1/2 OZ. 9999 FINE GOLD. Additionally, the initials of the designer and sculptor are included.
Prices, Mintages and Ordering
Prices for the new issues is $815.00 for the proof coin and $795.00 for the uncirculated coin. This pricing is subject to change, however, as the Mint utilizes a pricing matrix tying the coins to fluctuations in the gold market. Earlier releases this year debuted $25 higher until moving to the present prices. The Mint most recently reduced prices on Wednesday, Nov. 27. Current prices are based on a weekly gold average of between $1,200 and $1,249.99 an ounce.
Maximum mintage for the gold coins is capped at 10,000. This same mintage applies to all 2013-dated releases but it represents a 3,000 drop from last year's strikes.
Orders for Helen Taft First Spouse Gold Coins may be made on the Mint's online ordering page, located here. They are also accepted by telephone at 1-800-USA-MINT (872-6468).
These coins are encapsulated, presented in a lacquered hardwood display case and accompanied by United States Mint Certificate of Authenticity.
Helen Taft Bronze Medals
Bronze medal replicas of the Helen Taft First Spouse Gold Coins are also produced by the United States Mint. They will be released as part of the William Howard Taft $1 Coin & Helen Taft First Spouse Medal Set. This set is due to launch tomorrow, Dec. 3, and will be offered for $9.95. The coin and medal are presented together on a durable plastic card.
In addition, bronze medal replicas of all five of the 2013-dated First Spouse Gold Coins will be released together in the 2013 First Spouse Bronze Medal Set. This set is due for release on Dec. 16 and will sell for $16.95.
About Helen Taft
Helen Taft was born with the surname of Herron on June 2, 1861 in Cincinnati, Ohio. She was the daughter of Judge John Williamson Herron, a law partner of Rutherford B. Hayes, the 19th U.S. President.
Her relationship to the Oval Office would not end there, however, as she married William Howard Taft who would become the 27th President. Two months after his assuming the office, she suffered a stroke and never fully recovered. This did not stop her from being instrumental in the planting of 3,020 Japanese cherry trees in Washington. The trees have become an annual pilgrimage for many during the blossom season.