Noon time today, July 9, 2013, sales of William Howard Taft Presidential $1 Coins started at the United States Mint. Eight numismatic products are now available, and they include multiple circulation-quality dollars in rolls, bags and boxes.
William Howard Taft was the 27th President of the United States of America, so the coins honoring him are also the 27th in the Presidential $1 Coin Program. This year they were preceded by William McKinley and Theodore Roosevelt dollars and later they will be followed by Woodrow Wilson dollars. (Read about all four 2013 dollars or about their designs.)
The eight William Howard Taft Presidential dollar products are listed below with their prices. Each was struck at either the United States Mint facility in Philadelphia or Denver.
William Howard Taft Presidential Dollar Rolls
First up are the 25-coin rolls. They are $32.95 per roll, and collectors can choose between rolls that were made at the Philadelphia Mint, as indicated by the "P" mint mark incused on the coins' edges, or those from the Denver Mint that have the "D" mint mark on their edges.
The "P" or "D" is also displayed on each coin roll's signature wrapping. Also listed is the description, "Presidential $1 Coin," as well as other pertinent information, "William Howard Taft," "$25," "UNITED STATES MINT" and "www.usmint.gov."
William Howard Taft Presidential Dollar Bags
With the 100-coin bag, a buyer will receive 100 loose dollars for $111.95. One option is a bag filled with coins from Philadelphia, and the other option is a bag filled with coins from Denver.
Bold letters on the canvas bag plainly read, "U.S. MINT," "DOLLARS" and "$100.00." In the upper corner is a white tag printed with either a "P" or a "D" for the city, "2013," "Presidential $1 Coin," "William Howard Taft," the U.S. Mint logo, the U.S. Treasury seal, and the words, "UNITED STATES MINT."
William Howard Taft Presidential Dollar Boxes
Finally, for those who wish to order William Howard Taft Presidential $1 Coins in bulk, there are four product choices. The 250-coin boxes, which have 10 of the 25-coin rolls, are $275.95 each. The largest ones are the 500-coin boxes, having 20 of the dollar rolls, and they are $550.95 each. It should be noted that the U.S. Mint charges an additional shipping charge of $7.95 for every 500-coin box due to its excess weight.
Similar to the preceding choices, collector options are either the Philadelphia-only strikes in the box or Denver-only strikes.
A big, unadorned sticker on the top of each box describes its contents. It reads, "2013 Presidential $1 Coin," "William Howard Taft," "UNITED STATES MINT," the mint's website,"www.usmint.gov," and the face value inside the box which is either "$250" or "$500." A big "P" or "D" is printed in the corner of the sticker.
Coin Designs and Specifications of Taft Presidential $1 Coins
A forward facing portrait of the former President is featured on one side of the coin, the obverse. On this particular coin, William Howard Taft's portrait was drawn by U.S. Mint Master Designer Barbara Fox and engraved by U.S. Mint Sculptor-Engraver Michael Gaudioso.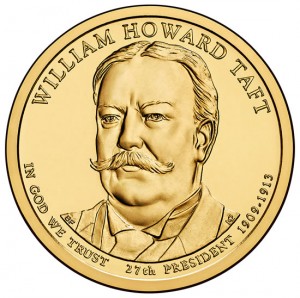 Obverse inscriptions include, "WILLIAM HOWARD TAFT," across the top and, "IN GOD WE TRUST," "27th PRESIDENT" and "1909 – 1913," under the President's image.
Don Everhart's Statue of Liberty rendition is featured on the reverse of every Presidential $1 Coin. Reverse inscriptions are simply "UNITED STATES OF AMERICA" and "$1."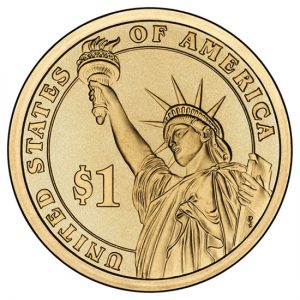 In addition to the mint mark of either "P" or "D" stamped into the edge of the coin, there are inscriptions of "2013" and "E PLURIBUS UNUM."
Composition of Presidential $1 Coins include 88.5% copper, 6% zinc, 3.5% manganese and 2% nickel. Each weighs 8.1 grams, has a diameter of 26.49 mm, which is equal to 1.043 inches, and a thickness of 2.0 mm.
Order Information
Ordering $1 coin products is simple at the U.S. Mint. The secure web site is www.usmint.gov with the product page for Taft here and series information here.
The customer service number is 1-800-USA-MINT (872-6468). Also, hearing- and speech-impaired customers may order by calling 1-888-321-MINT (6468).
No ordering limits are in place for any of these products.
Brief Biography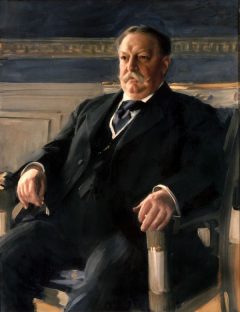 William Howard Taft was born in 1857 in Cincinnati, Ohio. He started his political career and rose mostly through Republican judiciary appointments after graduating from Yale University. He married his wife, Helen Herron, in 1886. A United States Mint gold coin featuring the First Lady will debut later this year.
By the time he was 34 years old, he was appointed a Federal circuit judge. When President McKinley was in office, he made Taft chief civil administrator to the Philippines in 1900. In 1904, President Roosevelt appointed him Secretary of War. By 1908, the Republicans nominated Taft as their presidential candidate.
Taft won the election, and he served the four years. Afterwards, he returned to Yale as a Professor of Law, until President Harding made him Chief Justice of the U.S. Supreme Court. For Taft, that position was the one he held dearest.