On Thursday, Nov. 21, 2013, the United States Mint released Edith Roosevelt First Spouse Gold Coins.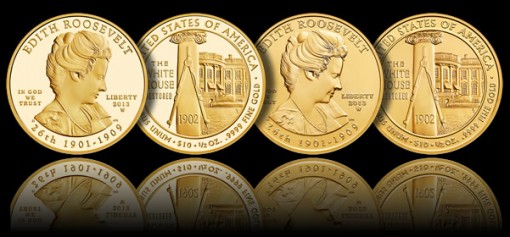 Shown on the obverse and reverse are designs celebrating Edith Roosevelt, wife of the 26th President of the United States, Theodore Roosevelt.
These coins from the West Point Mint are composed of one-half ounce, 99.99% pure gold and are available in proof and uncirculated qualities. They mark the second release this year from the Mint's 24-karat gold coin series.
Normally, coins of program appear earlier in the year and at staggered 2-3 month intervals. That did not happen, similar to last year, as a production issue known as "finning" delayed releases. The first 2013 strike, honoring Ida McKinley, was just issued one week ago, on Nov. 14, 2013.
Three more coins are scheduled to appear this year bearing designs commemorating:
Helen Taft (release date of Dec. 2, 2013)
Ellen Wilson (release date to be determined)
Edith Wilson (release date to be determined)
See the 2013 First Spouse coin designs.
The series debuted in 2007 and honors the spouses of the former Presidents of the United States.
Designs of Edith Roosevelt First Spouse Gold Coins
Appearing on obverses is a portrait of Edith Roosevelt. The likeness is the work of United States Mint Artistic Infusion Program (AIP) Designer Joel Iskowitz with sculpting completed by United States Mint Sculptor-Engraver Joseph Menna.
Inscriptions surrounding the portrait read EDITH ROOSEVELT, IN GOD WE TRUST, LIBERTY, 2013, 26th and 1901-1901, representative of her years in service. Artist's initials and the West Point Mint's "W" mint mark also appear.
The reverse has a design emblematic of the life of Edith. It depicts the White House with a slightly off-center column and compass. This design is representative of her work in the restoration of the White House in 1902.
A 1902 is seen inscribed into the column. Additional inscriptions include UNITED STATES OF AMERICA, E PLURIBUS UNUM, $10 and 1/2 OZ. 9999 FINE GOLD. The image was designed by AIP Associate Designer Chris Costello and sculpted by United States Mint Sculptor-Engraver Don Everhart.
Prices, Mintages and Ordering
Pricing of the new release is listed as $840.00 for the proof coin and $820.00 for the uncirculated coins. These prices are the same for the other available First Spouse Gold Coins, though they can change weekly (every Wednesday) depending on the direction of the gold market. Current prices are based on a weekly gold average of between $1,250 and $1,299.99 an ounce.
A maximum mintage of 10,000 has been established for the recent issue. This same mintage will be applied to all 2013 First Spouse Gold Coins but it does represent a 3,000 drop from mintage caps established last year.
Those interested in ordering Edith Roosevelt First Spouse Gold Coins may visit the Mint's online ordering page, located here. Orders are also accepted by telephone at 1-800-USA-MINT (872-6468).
Each encapsulated coin is placed within a lacquered hardwood display case and accompanied by United States Mint Certificate of Authenticity.
Edith Roosevelt Bronze Medals
Also issued by the United States Mint are bronze medal replicas of the gold coin designs. Edith's medal will be available as part of the Theodore Roosevelt $1 Coin & Edith Roosevelt First Spouse Medal Set.
This set is scheduled with a release date of next Tuesday, Nov. 26, 2013 at a price of $9.95. As seen in the above image, the Presidential $1 Coin and bronze medal are held within a durable plastic card.
Also, a set of the medals replicating all the 2013 First Spouse Gold Coin designs will be available in December. Entitled the 2013 First Spouse Bronze Medal Set, its price will be $16.95.
About Edith Roosevelt
Born on August 6, 1861, Edith married Theodore Roosevelt on December 2, 1886. Theodore was elected the 26th US President and the two served together in the White House from September 14, 1901 – March 4, 1909.
Edith was known for her interest in maintaining a separation of family life from the public's view. Her time as First Lady is noted for her involvement in the remodeling of the White House, as highlighted on her gold coins.