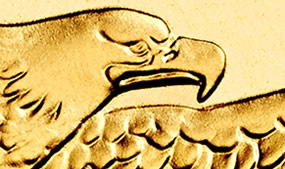 Gold was little changed ahead of the Fed policy meeting this week, though prices did settle a tad off from the five-week high notched on Friday.
Gold prices for December delivery slipped 30 cents to $1,352.20 an ounce on the Comex division of the New York Mercantile Exchange. The loss was the first in three sessions. Trading volume was softer than typical in starting a new week as gold prices ranged from a low of $1,346.10 to a high of $1,361.80.
"Quanticipation is back, and gold says the Fed won't taper QE or change anything else on Wednesday," MarketWatch quoted Adrian Ash, head of research at BullionVault. "That might mean we get a dip after the announcement itself."
Fed policy makers begin their two-day meeting on Tuesday with the FOMC statement published on Wednesday at 2 p.m. ET.
Last week, gold prices rallied 2.9% for a second straight week of gains.
In other precious metals futures on Monday:
Down for a second session, silver for December delivery shed a dime, or 0.5%, to finish at $22.54 an ounce. It traded between $22.38 and $22.72.

January platinum advanced $17.40, or 1.2%, to end at $1,472.90 an ounce. It ranged from $1,450 to $1,474.50.

Gaining for the eighth time in nine sessions, palladium for December added $2.55, or 0.3%, to close at $750.45 an ounce. It traded between $741 and $752.
The three metals advanced last week with gains of 3.3% for silver, 1.2% for platinum and 1% for palladium.
London Fix Precious Metals
London precious metal fixings moved solidly higher. In contrasting Friday PM to Monday PM London fix prices:
Gold prices advanced $13.25, or 1%, to $1,361 an ounce,
Silver gained 19 cents, or 0.9%, to $22.54 an ounce,
Platinum rose $22, or 1.5%, to $1,462 an ounce, and
Palladium added $9, or 1.2%, to $742 an ounce
Last week, rising was gold by 2.4%, silver by 2.2% and platinum by 0.1%. Palladium declined 0.5%.
US Mint Bullion Sales in October
All one-ounce U.S. Mint bullion products climbed Monday. Gold Eagles and Gold Buffalo coins each added 2,000 ounces while Silver Eagles rose 506,500. October sales of the gold coins are the highest since July. Silver Eagles need to move up just 888,001 more to set a new annual record.
In coin totals are the latest daily, October and year-to-date United States Mint bullion sales figures:
American Eagle and Buffalo Bullion Sales (# of coins)
Monday / Week-To-Date Sales
Last Week
October Sales
YTD Sales
$50 American Gold Eagle Bullion Coins
2,000
11,500
35,500
640,500
$25 American Gold Eagle Bullion Coins
0
2,000
3,000
56,000
$10 American Gold Eagle Bullion Coins
0
8,000
10,000
114,000
$5 American Gold Eagle Bullion Coins
0
10,000
30,000
495,000
$50 American Buffalo Gold Bullion Coins
2,000
2,500
17,000
217,000
White Mountain 5 oz. Silver Bullion Coins
Sold Out
35,000
Perry's Victory 5 oz. Silver Bullion Coins
0
0
1,200
26,200
Great Basin 5 oz. Silver Bullion Coins
0
0
2,200
27,200
Fort McHenry 5 oz. Silver Bullion Coins
0
0
2,600
27,600
American Silver Eagle Bullion Coins
506,500
699,000
2,892,500
38,980,500