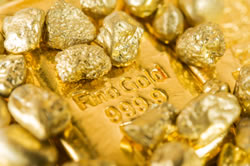 Gold edged slightly higher Tuesday with gains moderated by a stronger U.S. dollar and continued profit-taking pressure.
Gold prices for December delivery crawled 60 cents higher to settle at $1,771.20 an ounce on the Comex in New York. Gold touched an intraday low of $1,753.20 and reached a high of $1,775.90.
"Since the gold rally is heavily predicated on QE3, this could shift the market psychology to one of cautious consolidation after the spate of strong gains. We remain bullish but believe the market needs a 'breather' before moving higher later in the year," analysts at HSBC said in a note, according to MarketWatch.
In other New York precious metals futures:
Silver for December delivery added 35.1 cents, or 1.0%, to close at $34.718 an ounce. The white metal traded between $34.015 and $35.100.

Platinum for October delivery declined $36.30, or 2.2%, to $1,636.30 an ounce, trading between $1,619.00 and $1,677.60.

Palladium for December delivery fell $21.75, or 3.2%, to $667.35 an ounce, ranging from $663.20 to $689.95.
Platinum and palladium were pressured by news that South African miners accepted a labor deal. Until Monday, the PGM's had been riding a streak of wins that started on September 3.
London Precious Metals
Precious metals in London were lower Tuesday, although gold was nearly unchanged. In comparing PM fixing prices:
Gold declined 50 cents to $1,769.50 an ounce,
Silver lost 47.0 cents, or 1.4%, to $34.06 an ounce,
Platinum fell $27.00, or 1.6%, to $1,669.00 an ounce, and
Palladium stepped back $10.00, or 1.4%, to $681.00 an ounce
U.S. Mint Bullion Coins
For a third straight day, sales advanced for each type of bullion coin sold by the U.S. Mint.
On Friday, gold coins held the spotlight with sales of 11,000 ounces. Attention turned to silver coins on Monday when sales were higher than each of the past two weekly totals.
Gold and silver coin levels were more muted Tuesday. The following grid offers the latest daily, September and year-to-date bullion sales as published by the U.S. Mint.
Sales of US Mint American Eagle and Buffalo Bullion Coins
Daily Gains
September Gains
YTD 2012
$50 American Eagle Gold Coins
1,500
31,000
378,500
$25 American Eagle Gold Coins
0
1,000
60,000
$10 American Eagle Gold Coins
0
0
58,000
$5 American Eagle Gold Coins
0
10,000
225,000
$50 American Buffalo Gold Coins
1,000
6,000
94,000
American Eagle Silver Coins
25,000
1,904,000
24,444,000
In related numismatic news, there is a strong possibility that the U.S. Mint could raise gold coin prices Wednesday.
Sales of America the Beautiful 5 Oz. Silver Bullion Coins
Daily Gains
September Gains
All-Time Total
2012 El Yunque National Forest 5 oz. Silver Coins
0
0
16,700
2012 Chaco Culture National Historical Park 5 oz. Silver Coins
0
0
17,000
2012 Acadia National Park 5 oz. Silver Coins
400
2,400
17,500
2012 Hawai'i Volcanoes 5 oz. Silver Coins
0
10,400
10,400
2011 Olympic National Park 5 oz. Silver Coins
0
0
85,900
2011 Vicksburg National Military Park 5 oz. Silver Coins
0
0
39,500
2011 Chickasaw Park 5 oz. Silver Coins
0
0
29,700
TOTAL
400
12,800
216,700
Sales figures above are in the number of coins sold, not in the amount of ounces sold.