As of noon ET today, Oct. 17, the United States Mint began selling the latest Presidential $1 Coin in rolls, bags and boxes. This coin honors the 28th President of the United States, Woodrow Wilson, who served from 1913 to 1921.
These coins are the final release from the series for 2013 and the 28th since it debuted in 2007. Previous 2013 Presidential dollars honor William McKinley, Teddy Roosevelt and William Howard Taft.
Read about all four 2013 $1s or about the 2013 $1 designs.
Woodrow Wilson Dollar Designs & Specifications
Designed and sculpted by Don Everhart, obverses (heads side) of the new coins feature a profile likeness of President Wilson. Inscriptions appearing around the portrait read: "Woodrow Wilson," "In God We Trust," "28th President" and "1913-1921."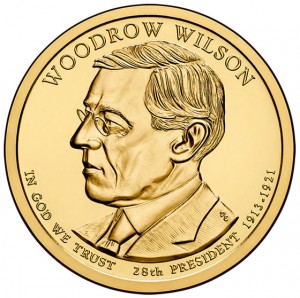 Reverses (tails side) on all Presidential $1 Coins feature Don Everhart's rendition of the Statue of Liberty. Inscriptions on this side read: "United States of America" and "$1."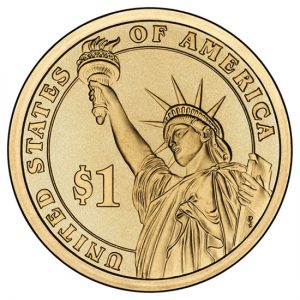 On the edge of the coin are the incused inscriptions "2013," "E PLURIBUS UNUM," and the mint mark of either "P" or "D." Unlike collector proof versions, edge-incused inscription positions vary with every circulating-quality coin. The P and D designations show where the coins were produced, either at the Philadelphia Mint or the Denver Mint.
Specifications of the dollars include a manganese-brass composition of 88.5% copper, 6% zinc, 3.5% manganese and 2% nickel. Each weighs 8.1 grams, has a diameter of 26.49 mm (1.043 inches) and a thickness of 2.0 mm.
25-Coin Rolls of Woodrow Wilson Presidential $1s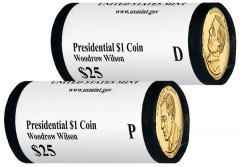 Woodrow Wilson Presidential $1 Coins are available in 25-coin rolls for $32.95 with collectors having the options of rolls filled with coins from Denver or Philadelphia.
Each roll is wrapped in white paper with black edges. Printed on the wrapping is the description: "Presidential $1 Coin," "Woodrow Wilson," "$25," "UNITED STATES MINT," "www.usmint.gov" and either a "P" or a "D" to show the mint of origin.
100-Coin Bags of Woodrow Wilson Presidential $1s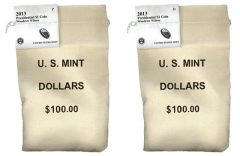 Available 100-coin bags are priced at $111.95. As with the rolls, the bags are available with coins from the Denver Mint or the Philadelphia Mint.
Imprinted on each canvas bag in big, bold letters is: "U.S. MINT," "DOLLARS" and "$100.00."
Printed on a tag that is sewn in the upper corner is: "2013," "Presidential $1 Coin," "Woodrow Wilson," "UNITED STATES MINT" and either a "P" or a "D" for the city. The Mint's logo is also shown on the tag.
250- and 500-Coin Boxes Woodrow Wilson Presidential $1s
Large quantities of dollar boxes are available with four options. 250-coin boxes are sold for $275.95, while 500-coin boxes are priced at $550.95. Like before, collectors can chose the mint of origin for the dollars that fill the boxes.
A sticker on the top of each box describes its contents in the following way: "2013 Presidential $1 Coin," "Woodrow Wilson," "UNITED STATES MINT" and "www.usmint.gov." Also noted are the face value of either "$250" or "$500" and the mark of "P" or "D."
Every 500-coin box has an extra $7.95 shipping charge because of their extra weight.
Ordering Woodrow Wilson Presidential Dollars
Collectors may place their orders for the dollar rolls, bags and boxes directly from the United States Mint's secure web site at www.usmint.gov with the Presidential $1 Coin product page located here.
Telephone orders are accepted at 1-800-USA-MINT (872-6468). Also, hearing- and speech-impaired customers may order by calling 1-888-321-MINT (6468). There are no ordering limits on any of the rolls, bags or boxes.
Short Biography for Woodrow Wilson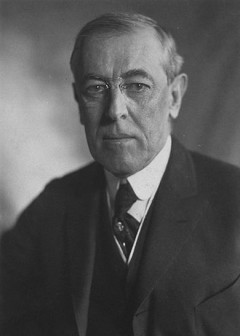 Woodrow Wilson was born on December 28, 1856, the third child of four from Joseph Ruggles Wilson and Jessie Janet Woodrow. His grandparents immigrated to the United States from what is now Northern Ireland in 1807. Woodrow had difficulty learning how to read which could have indicated dyslexia. To compensate, he taught himself shorthand.
Wilson attended Davidson College for the 1873-1874 school year, but medical ailments kept him from going back for his second year. He transferred to Princeton as a freshman when his dad took a teaching job at the university. After graduating in 1879, he went on the study law at the University of Virginia. Frail health caused him to leave school before graduating and he went home to Wilmington, North Carolina to continue studying.
He opened his own law practice in 1882 but decided to go back to school at Johns Hopkins University in the fall of 1883. Here he studied for a doctorate in history and political science.
In 1885, Wilson married Ellen Louise Axson and they had three daughters. Ellen died in 1914, making Wilson just one of three sitting presidents to be widowed. The next year, while still president, he married a direct descendant of Pocahontas, Edith Galt. These two woman will be featured on United States Mint 24-karat First Spouse Gold Coins later this year.
Wilson ran for Governor of New Jersey on the Democrat ticket in 1910, defeating his Republican rival by 49,000 votes. It didn't take him long to get his reformist agenda on the books.
Two years later, in 1912, Wilson ran for president and won. During his two-term presidency he passed a very progressive agenda, which included the Federal Reserve Act, Federal Trade Commission Act, the Clayton Antitrust Act, the Federal Farm Loan Act and an income tax. Child labor was curtailed by the Keating–Owen Act of 1916, but the U.S. Supreme Court declared it unconstitutional in 1918.
On February 3, 1924, Wilson died in his S Street home as a result of a stroke and other heart-related problems. He was laid to rest in Washington National Cathedral, the only president buried in Washington, D.C.