A baseball glove designed by Cassie McFarland will grace the heads side of curved 2014 National Baseball Hall of Fame Commemorative Coins, the United States Mint officially revealed Tuesday, Oct. 15.
McFarland's design and her initials will appear next year on up to 50,000 $5 gold, 400,000 $1 silver, and 750,000 half-dollar clad coins that celebrate the 75th anniversary of the National Baseball Hall of Fame.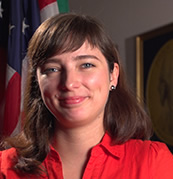 The 27-year old artist from San Luis Obispo, California drew inspiration for her design from a "well-loved glove" used by her family while she was growing up in the historic railroad town of Roseville, California. McFarland, a practicing figurative painter and photographer, holds a bachelor's degree in Fine Arts Studio Art and Design from California Polytechnic State University in San Luis Obispo.
Her baseball glove design competed against 15 other finalists drawn from 178 entries submitted between April 11 and May 11, 2013 and reviewed by various bodies to include a panel of Baseball Hall of Fame judges.
The official winning announcement was more of a formality given that the Commission of Fine Arts (CFA) and the Citizens Coinage Advisory Committee (CCAC) recommended McFarland's design back in July. The Department of the Treasury made the final determination on Sept. 4, 2013.
McFarland will also receive $5,000 for her work, as outlined in the design competition and authorized by the National Baseball Hall of Fame Commemorative Coin Act (Public Law 112-152).
United States Mint Sculptor-engraver Don Everhart was tasked with taking McFarland's line art design and sculpting it for use on coinage. A CoinNews.net article on Friday will include a few photos and a short video of Don making some finishing touches to a plaster model of the baseball glove design.
Don also created and sculpted the commemorative coin reverses which look like a Major League Baseball.
These commemoratives will be a first among American coinage. Their obverses will be concave and their reverses convex. This curved shape is intended to impart the commemorative coins' baseball theme.
Prices for the commemorative coins and their release dates will be announced early next year. All prices will include surcharge amounts of $35 for each gold coin, $10 for each silver dollar, and $5 for each half-dollar. These surcharges, as required by Public Law 112-152, will be paid to the National Baseball Hall of Fame to help finance its operations.