It's a boy! This exclamation has been plastered all over news outlets since the announcement that Prince William's wife Kate gave birth to a boy today, July 22, 2013 at 4:24 PM (London Time).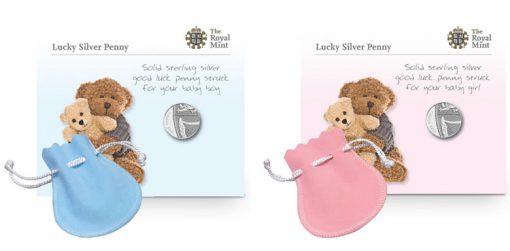 International excitement over the pregnancy has been high since the Duke and Duchess of Cambridge first confirmed they were expecting late last year. That excitement will likely intensify in the months ahead as the world gets its first glimpse of the baby who is now third in line to the throne.
Coin enthusiasts also have additional reason to be interested in the event since the Royal Mint has planned a special gift for other babies born on the same day in the United Kingdom. That gift — a 2013 Lucky Silver Penny.
"The birth of the royal baby (is) a joyous occasion not just for Their Royal Highnesses The Duke and Duchess of Cambridge but also for the whole nation, as we prepare to celebrate another remarkable milestone in their life journey together," stated Shane Bissett, Director of Commemorative Coin at the Royal Mint.

"However, it will also be a special day for many mothers and fathers across the country as they too welcome the arrival of their new baby, hence why we wanted to extend this historical moment to them with a lucky silver penny."
Parents in the UK who had a child on July 22 need only register the event within sixty days from today on the Royal Mint's Facebook page: Facebook.com/theroyalmint. A scan of the birth certificate is required.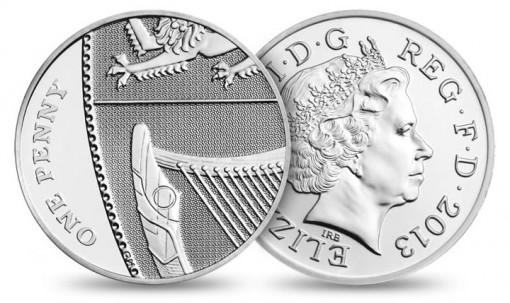 Successful registrants will receive a 2013 silver penny presented in a pink or blue pouch. The obverse of the penny bears the Ian Rank-Broadley portrait of Her Majesty Queen Elizabeth II. Shown on the reverse is a shield of the Royal Arms designed by Matthew Dent. The Royal Arms features four parts with England represented by the three lions passant guardant in the first and fourth quarter. Scotland is represented by the Scottish lion rampant in the second quarter and Ireland by the harp in the third.
Each coin is struck from .925 Sterling Silver to a weight of 3.564 g. The diameter of the strike is 20.32 mm.
The 2013 Lucky Silver Penny is also available for purchase. Buyers have the choice of coins in blue or pink pouches which hold the strike. An illustrated blue or pink gift card, in turn, holds the pouch.
Current pricing of the 2013 Lucky Silver Penny is £28.00. Orders are accepted via the Royal Mint's website at http://www.royalmint.com or by calling +44 (0)845 60 88 222 (United Kingdom), 1-866-519-7298 (United States) or 1-866-924-0861 (Canada).