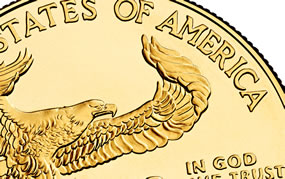 Gold ended lower Wednesday for the first time this week, pulling back from a more than three-week high.
Gold for August delivery fell $12.90, or 1%, to settle at $1,277.50 an ounce on the Comex in New York. The precious metal traded from a low of $1,269.30 to a high of $1,299.70. Investors throughout the day digested Fed Chairman Ben S. Bernanke's testimony before Congress, which essentially echoed previous statements.
"The guessing game about the wrapping up of the stimulus continues, and that has made people nervous, and pushed them toward cash," Adam Klopfenstein, a senior market strategist at Archer Financial Inc. in Chicago, said in a telephone interview relayed on Bloomberg News. "Also, the gold market faced some resistance at 1,300."
In the previous session, gold advanced $6.90, or 0.5%, to close at its highest price since June 21.
Silver also declined for the first time in three days with September futures tumbling 51.5 cents, or 2.6%, to settle at $19.42 an ounce. Silver prices ranged from $19.23 to $20.18.
In PGM futures in New York on Wednesday:
October platinum lost $14.10, or 1%, to $1,411 an ounce, trading between $1,402.80 and $1,434.60.

Barely snapping a string of seven consecutive session gains, palladium for September delivery dipped 15 cents to $735.45 an ounce. Palladium ranged from $729.85 to $739.25.
London Fix Precious Metals
London precious metals had advanced for two straight days until Wednesday when only gold peaked higher. When comparing the Tuesday PM to Wednesday PM London fixings:
Gold added $5.75, or 0.4%, to $1,297.25 an ounce,
Silver slipped 12 cents, or 0.6%, to $19.83 an ounce,
Platinum shed $2, or 0.1%, to $1,424 an ounce, and
Palladium edged down $1, or 0.1%, to $734 an ounce
US Bullion Coin Sales in July
U.S. Mint distributors on Wednesday ordered gold bullion coins but stayed their hands for silver coins. Gold Eagles rose by 3,500 ounces and Gold Buffalo coins added 500. Sales of silver coins have been muted since the sharp gains of 881,000 ounces on Monday.
The following table offers daily, July and year-to-date bullion coin totals as published by the U.S. Mint on its website.
American Eagle and Buffalo Bullion Coin Sales
Wednesday Sales
Last Week
Week-To-Date Sales
July Sales
YTD Sales
$50 American Eagle Gold Bullion Coins
3,000
5,000
3,000
23,000
567,500
$25 American Eagle Gold Bullion Coins
0
0
0
4,000
47,000
$10 American Eagle Gold Bullion Coins
2,000
2,000
2,000
6,000
92,000
$5 American Eagle Gold Bullion Coins
0
0
5,000
20,000
435,000
$50 American Buffalo Gold Bullion Coins
500
6,000
2,000
13,500
175,000
White Mountain 5 oz. Silver Bullion Coins
0
800
0
1,800
28,800
Perry's Victory 5 oz. Silver Bullion Coins
0
2,400
0
3,400
17,600
Great Basin 5 oz. Silver Bullion Coins
0
2,000
1,200
7,500
17,400
American Silver Eagle Bullion Coins
0
830,500
875,000
2,531,500
27,575,000
Figures above are in the number of coins sold, not in ounces.