More than two years after originally planned, the Federal Reserve Board has announced that a new $100 bill will finally begin circulating later this year. The new $100 note will be released beginning on October 8, 2013.
Original plans called for the release to occur in February of 2011. However, owing to production issues, that debut was postponed.
A problem with creasing had developed when mass printing of the bills, according to the Bureau of Engraving and Printing (BEP). The creasing issue had not surfaced during extensive pre-production runs but became apparent when full production was established.
All relevant issues have apparently been remedied allowing the Bureau to establish pre-release inventories sufficient to meet demand. On average, tens of thousands of $100 notes are printed monthly by the BEP.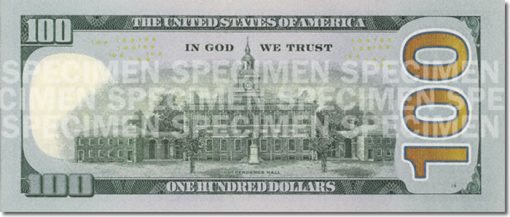 The $100 bill is the most counterfeited, and, up until now, was the last to receive a facelift. New security features have been added which are designed to make the note easier to identify and authenticate by consumers and merchants but much more difficult to counterfeit.
These security features include a blue 3-D security ribbon on the front of the note. The ribbon has micro-images of bells and 100's that appear to switch back and forth as the note is tilted by the holder Also, a "Bell in the Inkwell" feature has been added to the right of the Benjamin Franklin portrait that changes from green to copper as the note is shifted. In doing so, the bell in the design seems to disappear.
With a new firm date in place for the release of the updated $100 bill, the Federal Reserve Board plans to ramp up its public education program about the new note to inform consumers of its features.
"To ensure a smooth transition to the redesigned note when it begins circulating in October, the U.S. Currency Education Program is reaching out to businesses and consumers around the world to raise awareness about the new design and inform them about how to use its security features," indicates a statement by the Federal Reserve Board.
Additional information on the new $100 bill can be found on the site http://www.newmoney.gov/.