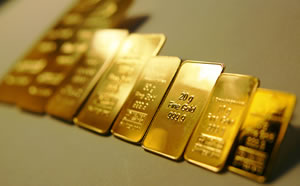 Gold advanced for a second day in a row Friday, its sixth gain in seven sessions. Daily increases have been marginal though, yet stack to $15.70, or 1.0%, from a week ago.
Gold for April delivery tilted higher Friday by $1.90, or 0.1%, to settle at $1,592.60 an ounce on the Comex in New York. Gains were supported by a decline in the U.S. dollar and a jump in U.S. inflation.
"The inflation figure was higher than expected and given that inflation pressures are building, this likely accounts for gold's rise today," MarketWatch quoted Mark O'Byrne, director at GoldCore.

"The market is also experiencing an element of 'dead-cat bounce' and gold is due a bounce higher from oversold levels," said O'Byrne.
Gold is historically purchased as a hedge against inflation. On Friday, the Labor Department reported that U.S. inflation surged in February with consumer prices up 0.7% for the biggest increase since June 2009. Prices were flat in the previous two months and down 0.2% in October.
"Physical demand is providing support after the huge price slump," Bloomberg quoted Frank Trotter, the chief executive officer of EverBank Wealth Management in Jacksonville, Florida. "The government is not concerned about inflation, even though the CPI (Consumer Price Index) is rising, and that may be a problem long term."
After falling for four weeks straight, gold has now advanced for two consecutive weeks. The streak could widen according to some market-watchers. In support, Kitco's weekly gold survey is bullish for prices next week.
"In the Kitco News Gold Survey, out of 33 participants, 25 responded this week. Of those 25 participants, 17 see prices up, while two see prices down, and six see prices moving sideways or are neutral," Kitco News reports.

Kitco relays that several survey participants suggest that "gold is building a base in the $1,570s," adding that those who expect lower prices said that "dollar strength may hinder gold, along with the strength in the stock markets and better-than-expected economic data."
For the year-to-date, gold prices have declined $83.20, or 0.5%.
Silver, Platinum and Palladium Futures
Other major precious metals logged weekly losses. Palladium led at 0.9%. Platinum lost 0.7%. Silver was slightly lower this week by 0.3%.
In New York futures prices on Friday:
Silver for May delivery rose 4.4 cents, or 0.2%, to close at $28.851 an ounce. On Thursday, silver had dipped lower for a second day after climbing in seven of eight precious sessions.

April platinum inched up $2.60, or 0.2%, to end at $1,592.40 an ounce.

Palladium for June delivery advanced $4.90, or 0.6%, to settle at $770.75 an ounce.
For the year so far, silver has tracked gold and is down 4.6%. PGMs are higher with advances of 3.2% for platinum and 10.3% for palladium.
London Bullion Prices
Precious metals in London rose Friday after two straight days of across-the-board losses. When comparing the Thursday PM to Friday PM London fixings:
Gold gained $9.50, or 0.6%, to $1,595.50 an ounce,
Silver tacked on 27.0 cents, or 0.9%, to $28.91 an ounce,
Platinum tipped up $10.00, or 0.6%, to $1,593.00 an ounce, and
Palladium added $8.00, or 1.0%, to $774.00 an ounce
London precious metals also increased on the week. Gains totaled 0.9% for gold, 0.5% for silver, 0.3% for platinum and 0.7% for palladium.
In related London silver fixing news, read about the change this week in United States silver coin melt values.
US Bullion Coin Sales in March
Sales of United States Mint bullion coins slowed this week after three weeks of mostly comparative performances. Buying eased marginally for silver coins and substantially for gold coins. In weekly sales breakdowns:
Gold bullion coins tallied to 10,500 ounces versus the prior week's 26,500 ounces. Splits per U.S. Mint product were 9,500 ounces in 22-karat American Gold Eagles and 1,000 ounces in 24-karat American Buffalo gold coins.

Silver bullion coins reached 814,500 ounces compared to the previous week's 897,000 ounces. All sales came from American Silver Eagles. The bullion coins topped 12 million for the year on Monday, the quickest the milestone has been reached in any year going back to the series launch in 1986.
Current sales for each of the U.S. Mint's bullion products follow.
American Eagle and Buffalo Bullion Coin Sales
Friday Sales
Last Week
Weekly Sales
March Sales
YTD Sales
$50 American Eagle Gold Coins
2,500
18,000
7,500
29,500
222,000
$25 American Eagle Gold Coins
1,000
2,000
1,000
3,000
25,000
$10 American Eagle Gold Coins
2,000
4,000
2,000
6,000
42,000
$5 American Eagle Gold Coins
0
10,000
10,000
20,000
200,000
$50 American Buffalo Gold Coins
0
5,500
1,000
6,500
90,500
American Silver Eagle Coins
0
897,000
814,500
1,711,500
12,578,000
America the Beautiful 5 Oz. Silver Bullion Coin Sales
Friday Sales
Last Week
Weekly Sales
March Sales
All-Time Sales
2012 El Yunque National Forest 5 oz. Silver Bullion Coins
Sold Out
0
24,000
2012 Chaco Culture National Historical Park 5 oz. Silver Bullion Coins
600
24,400
2012 Acadia National Park 5 oz. Silver Bullion Coins
0
25,400
2012 Hawai'i Volcanoes 5 oz. Silver Bullion Coins
0
20,000
2012 Denali National Park 5 oz. Silver Bullion Coins
0
20,000
2011 Olympic National Park 5 oz. Silver Bullion Coins
0
0
0
0
104,900
2011 Vicksburg National Military Park 5 oz. Silver Bullion Coins
0
0
0
10,400
58,100
2011 Chickasaw Park 5 oz. Silver Bullion Coins
0
0
0
8,800
48,700
TOTAL
0
0
0
19,800
325,500
All bullion figures above are in the number of coins sold. Calculate total ounces by using the bullion coin's weight.