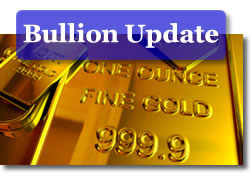 Gold advanced nearly $20 Friday which placed it $6.60, or 0.4%, higher for the week. The metal had seemed poised for a weekly loss just one day earlier based on weak economic news out of China and Germany which contrasted against improved US data.
Commodities and precious metals in particular, were squeezed from two sides — global demand worries and trimmed expectations that the Fed would raise inflationary prospects with further monetary easing.
April gold prices gained $19.90, or 1.2%, to $1,662.40 an ounce on the Comex in New York. Gold moved between an intraday low of $1,641.50 and a high of $1,666.30.
On Friday, oil surged to nearly $107 a barrel over supply fears, weaker-than-expected U.S. homes sales were reported and the U.S. dollar declined against the euro and yen. These ending-week events were among factors analysts cited for turning the yellow metal around.
"The jump [Friday] is somewhat sparked by the bad home sales, which increased the chance of the Fed bringing easing back to the system, and that's why gold is reacting positively," Reuters quoted James Rife, an assistant portfolio manager at Haber Trilix Advisors, which has $2 billion in assets.
"This unexpected Friday gain," in gold, and advance for the week, "can be traced to not much other than a bolstered euro," MarketWatch quoted Seth Rabinowitz, who covers commodities as a partner at Silicon Associates.

But as the reality of a recession clearly starting in the euro-zone countries sets in, "the euro will be the weakened this coming week, erasing at least the euro's effect on the spike in gold today," he said.
Gold prices are 2.9% lower in March as last week's 3.3% loss easily outweighed the two tepid weekly gains seen so far this month.
Gold Prices Expected Higher Next Week
Similar to forecasts that had been made for gold prices this week, there is a slight majority of market-watchers who expect gains during the final trading days in March.
"In the Kitco News Gold Survey, out of 37 participants, 24 responded this week. Of those, 11 see prices up, while eight see prices down and five see prices sideways or unchanged," reports Kitco.

"Curiously, those looking for both higher and lower prices cited technical-chart considerations for their expectations. Several traders and analysts said they expect a bounce since they view gold as oversold technically in the short term and likely to have found some support at this week's 10-week low…

Those looking for more declines, however, say they expect a continuation of the weak technical momentum lately with gold still not able to mount a re-challenge of the $1,700 area."
In a Bloomberg survey, 11 of 26 analysts expect higher gold prices. 9 are bearish and 6 are neutral.
Palladium tumbled this week and that lifted gold from last into third place in relation to best performing precious metals for the year. Gold has gained $95.60, or 6.1%, in 2012.
Silver, Platinum and Palladium Futures
While bouncing higher Friday, other precious metals registered weekly losses. Palladium led with a fall of 6.0%. Platinum retreated 2.8% and silver stepped back 1.0%.
On Friday, silver prices for May delivery gained 92.7 cents, or 3.0%, to $32.272 an ounce, ranging from $31.435 to $32.300. Silver has rallied $4.36, or 15.6%, in 2012.
Platinum prices for April delivery added $15.80, or 1.0%, to $1,627.90 an ounce, ranging from $1,613.50 to $1,638.50. Platinum remains the best performing precious metal this year, gaining $223.00, or 15.9%.
Palladium prices for June delivery advanced $8.85, or 1.4%, to $659.90 an ounce, ranging from $653.00 to $664.90. Its weekly loss nearly put it into the red for the year. The noble metal is up a modest $3.75, or 0.6%, in 2012.
London Precious Metals
London precious metals ran the gamut Friday with palladium unchanged, silver lower and gold and platinum higher. When comparing the most recent London PM fixings:
Gold added $28.50, or 1.7%, to $1,664.00 an ounce,
Silver declined 25.0 cents, or 0.8%, to $31.54 an ounce,
Platinum gained $10.00, or 0.6%, to $1,617.00 an ounce, and
Palladium remained the same at $658.00 an ounce
For the week, London precious metals moved in the same direction as New York metals futures. Gold rose 0.4% while the other major metals declined with losses of 2.3% for silver, 3.6% for platinum and 6.4% for palladium.
U.S. Mint Bullion Coins
Demand softened for U.S. Mint bullion coins this week as compared to a week ago when buying activity heated as both gold and silver prices tumbled.
This week gold bullion coin sales retreated marginally as American Gold Eagles and American Gold Buffalo totaled 16,500 ounces versus the prior week's 19,000. Silver bullion was another matter, however, as weekly sales of American Silver Eagles climbed 490,000 against 902,000.
As for March, gold and silver bullion sales are on fire when contrasted to February. In month-over-month comparisons:
Gold Eagles are at 43,500 ounces for the month versus 21,000 logged in the previous month
Gold Buffalo coins in March have tripled sales from February, up 23,000 over 7,000
Silver Eagles are up 2.137 million on the month against 1.49 million
The following are the most recent daily, weekly, monthly and year-to-date bullion coin totals as published by the U.S. Mint.
Sales of U.S. Mint American Eagle and Buffalo Bullion Coins
Daily Gains
Prior Weekly
Weekly Gains
March Gains
YTD 2012
American Gold Eagles (1 oz.)
7,000
11,500
9,500
39,500
144,000
American Gold Eagles (1/2 oz.)
2,000
0
2,000
2,000
51,000
American Gold Eagles (1/4 oz.)
0
0
0
0
40,000
American Gold Eagles (1/10 oz.)
5,000
10,000
15,000
30,000
120,000
American Gold Buffalo Coin (1 oz.)
4,500
6,500
4,500
23,000
43,500
American Silver Eagles
275,000
902,000
490,000
2,137,000
9,734,000
Sales of America the Beautiful 5 Oz. Silver Bullion Coins
Prior Weekly
Weekly Gains
All-Time Total
Olympic National Park 5 oz. Silver Coin
300
0
84,900
Vicksburg National Military Park 5 oz. Silver Coin
300
0
38,100
Chickasaw Park 5 oz. Silver Coin
300
0
28,700
TOTAL
900
0
151,700
All bullion sales in the above tables are in number of coins sold, not in the amount of ounces sold. The U.S. Mint has not sold any additional five ounce bullion silver coins since Monday, March 12.