New from the Royal Canadian Mint is the 2013 Bald Eagle 1/25 Ounce Gold Coin, the 12th issue under the Mint's series of 99.99% pure, 1/25 ounce gold coins.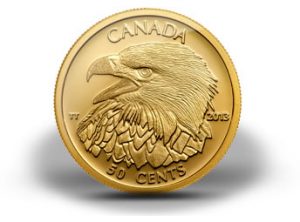 Struck in a collectible proof finish and limited to a mintage of 10,000, the gold coin is available directly from the Mint's website (mint.ca) for $129.95 CAD (~US $126.53).
Featured on the coin's reverse is a profile portrait of a Bald Eagle, a majestic bird of prey found in Canada and the United States. Bald Eagles are known for their large size, wide wingspan, distinctive coloring, piercing vision (four times sharper than humans) and huge nests. The Bald Eagle is also America's national bird, depicted on the Great Seal of the United States.
The portrait on the 2013 Bald Eagle 1/25 Ounce Gold Coin was designed by Canadian artist Trevor Tenant.
"Its sharp hooked beak is open while its small, far-seeing left eye glares authoritatively at the viewer," describes the Royal Canadian Mint website. "The varied textures and tones of the eagle's feathers are captured through expert engraving and finishing."
Surrounding the powerful bird are inscriptions of 'CANADA,' the year '2013,' the coin's face value of '50 CENTS' and 'TT' for Tenant's initials.
Each gold coin weighs 1.27 grams, has a diameter of 13.92 mm and a serrated edge. With the current spot price of gold at US $1,576.50 an ounce, the proof coin has a melt value of about US $63.
Coins are encapsulated, placed within a Royal Canadian Mint clamshell case and come with a serialized certificate.