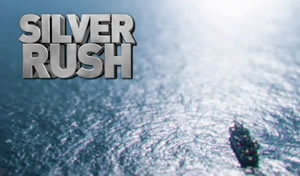 Tons of gold and silver salvaged from the ocean floor will be featured in a new Discovery Channel series premiering Sunday, Feb. 24, 2013. (Jump to preview.)
SILVER RUSH, a three-part series narrated by Mike Rowe, follows the crew of the Odyssey Explorer, part of Odyssey Marine Exploration, as they attempt to locate and excavate the precious metal cargo from shipwrecks.
At stake is over $1 billion in gold and silver from three sunken ships. Forty-eight tons of silver was recovered from one of those shipwrecks, the SS Gairsoppa.
"Part of our mission is to share the excitement of what we do with the general public. 2012 was a special year for our team as we set out to conduct recovery operations on a shipwreck that was over three miles deep – deeper than the Titanic and something that had never been accomplished before," said Mark Gordon, Odyssey President and COO.

"Our team successfully accomplished the record-breaking recovery of 48 tons of silver bullion – the heaviest and deepest recovery of precious metals in history."
The SS Gairsoppa was torpedoed by a German U-Boat in 1941. The merchant ship was owned by the British India Steam Navigation Company with its loss insured by the UK Government under the War Risk Insurance program. The program paid out £325,000 (1941 value) for the loss, thus giving cargo rights to the government. Under an agreement with the British government, Odyssey kept 80% of the recovered silver value to justify its costs and financial risk in the venture.
SS Gairsoppa was just one of three shipwrecks actively pursued by Odyssey during the expedition. Also sought was the location and recovery of the contents of the SS Mantola, an ocean liner that sank off the Irish coast in 1917, and the HMS Victory. The Victory was the flagship of the Royal British Navy and was lost at sea in 1744. Aboard the Victory may be upwards of $1 billion in gold.
The three-part SILVER RUSH series includes episodes entitled "The Hunt for Gairsoppa's Treasure," "Curse of the Mantola" and "Odyssey's Victory."
"Seeking and discovering shipwrecks is fascinating and challenging so to witness the trials and triumphs of the crew hundreds of miles off shore makes gripping television," said Jason Williams, President of JWM Productions, the company that produced the three-part series.

"SILVER RUSH will give viewers a first-hand look at the planning, precise maneuvering of advanced robotics three miles deep, and the ingenuity of the team."
SILVER RUSH premieres Sunday on the Discovery Channel at 8/7c. For more information, visit http://dsc.discovery.com/tv-shows/silver-rush.