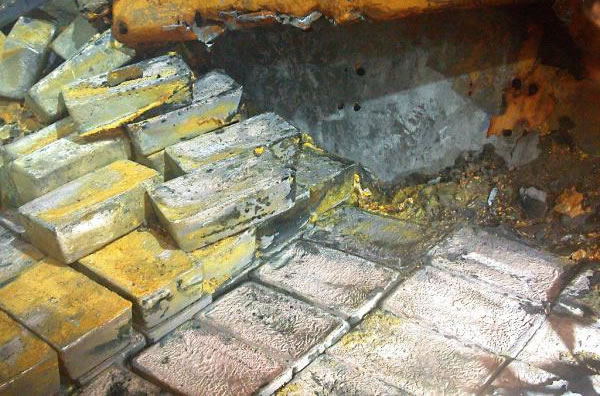 Approximately 48 tons of silver bars from the sunken British-flagged SS Gairsoppa was retrieved from three miles below the surface of the ocean by Odyssey Marine Exploration (shipwreck.net).
At such a deep depth, recovery of the cargo was impossible until now. Under a contract with the UK Department for Transport, Odyssey agreed to cover the cost of search and salvage operations. In return for its financial risk in the deep-sea venture, 80% of the net value of the Gairsoppa silver cargo after expenses is set to become the property of Odyssey.
Attempts to locate the shipwreck were undertaken last year. Odyssey announced that it had been found in October 2011. Plans and operations then moved forward to begin the retrieval.
"With the shipwreck lying approximately three miles below the surface of the North Atlantic, this was a complex operation. Our capacity to conduct precision cuts and successfully complete the surgical removal of bullion from secure areas on the ship demonstrates our capabilities to undertake complicated tasks in the very deep ocean," commented Greg Stemm, Odyssey Chief Executive Officer.

"This technology will be applicable to other modern shipwreck projects currently being scheduled as well as our deep ocean mineral exploration activities. Our success on the Gairsoppa marks the beginning of a new paradigm for Odyssey in which we expect modern shipwreck projects will complement our archaeological shipwreck excavations."
Odyssey estimates that the 48 tons of silver bars accounts for about 20% of the total silver cargo, and it will continue salvage operations later this year. The current haul consists of 1,203 silver bars for an approximate 1.4 million troy ounces.
SS Gairsoppa was on its way back to England from Calcutta, India when it was torpedoed by a German U-Boat in 1941. It was a 412-foot steel-hulled merchant ship owned by the British India Steam Navigation Company, but its loss was insured by the UK Government under the War Risk Insurance program. After paying approximately £325,000 (1941 value) to cover the losses, the UK government became the owners of the sunken cargo.
An Odyssey video of the SS Gairsoppa Shipwreck site is embedded below.
In related news, Odyssey notes that an estimated 600,000 ounces of silver is believed to be at the shipwreck site of a second recovery project, the SS Mantola, being conducted in conjunction with the Gairsoppa project.