The Royal Canadian Mint on Tuesday, January 7, 2013, began accepting orders for its 2013 $200 Jacques Cartier Gold Coin, the second of six issues in its Great Explorers series.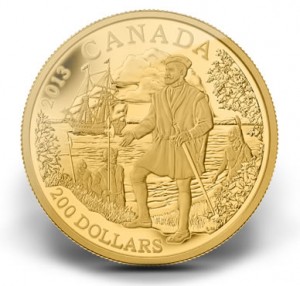 Each $200 coin is in 99.99% pure gold and struck to a proof quality finish. This latest release has a worldwide mintage limit of 2,000, which is 1,000 less than the first gold coin in the Great Explorers series that depicted Vikings.
Jacques Cartier, born in 1491, was a French explorer who discovered and mapped the Gulf of Saint Lawrence and the shores of the Saint Lawrence River. Cartier's explorations laid the foundation for European expansion into Canada. He was the first to document the name Canada.
Designed by artist Laurie McGaw, the reverse of the 2013 Jacques Cartier Gold Coin features a full-length portrait of the famous explorer standing atop a riverbank and surveying the land. Cartier is flanked by French soldiers and an aboriginal guide. Surrounding inscriptions include "CANADA," the year "2013" and "200 Dollars."
Each coin weighs 15.43 grams, has a diameter of 29 mm and features a serrated edge.
Priced at $1,199.95 CAD, the 2013 Jacques Cartier Gold Coin is available directly from the Royal Canadian Mint website at www.mint.ca.
Great Explorers series coins come with a serialized certificate. They arrive encapsulated within a Mint-branded clamshell case that is lined with flock and protected by a black sleeve.
The first issue in the series, the 2012 $200 Vikings Gold Coin, sold out online. The Royal Canadian Mint indicates a limited number remain available at its Ottawa store.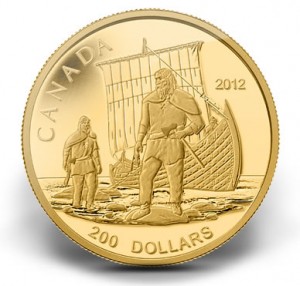 Shown on the Vikings Gold Coin are two Norse explorers with their sailing vessel anchored offshore. The scene symbolizes the Vikings landing on the shores of Canada for the very first time around the late tenth century.
A Great Explorers series features a coin release every year until Canada's 2017 Sesquicentennial.