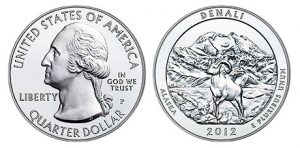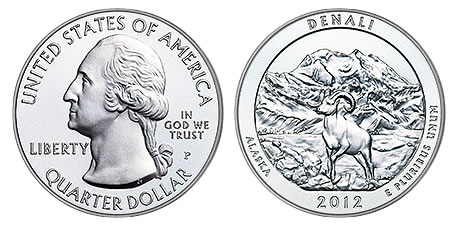 Starting demand was solid for the newly released 2012-P Denali National Park and Preserve Five Ounce Silver Uncirculated Coin.
The Denali silver coin is a collector version with an uncirculated finish and "P" mint mark, and it represents the fifteenth issued in the series of America the Beautiful Five Ounce Silver Uncirculated Coins.
Released on November 5, 2012 by the U.S. Mint at a price of $229.95, one-week sales totaled 6,905. That is well down from the immediate previous release of the Hawaii Volcanoes uncirculated silver coin. It opened with a one-week sales total of 9,186. But then its price was $20 cheaper and it did not compete with a three-day weekend for buyer's attention. Plus, many collectors voiced enthusiasm for the unique design featured on the Hawaii Volcanoes coin.
Starting sales for the Denali silver coin were better than the first three-2012-dated issues as the 2012-P Acadia National Park Five Ounce Silver Uncirculated Coin opened at 6,552, the 2012-P Chaco Culture National Historical Park Five Ounce Silver Uncirculated Coin started at 6,365 and the 2012-P El Yunque National Forest Five Ounce Silver Uncirculated Coin debuted with sales of 6,514.
Along with the collectible five ounce coins, the U.S. Mint sells investor versions through its distributors. These silver coins have a different finish and lack the "P" mint mark. The Denali bullion coin went on sale October 23, 2012. Demand for them overall has been on the rise since June.
For reference, the following table offers the latest sales figures for the bullion and uncirculated silver coins that are still offered by the U.S. Mint.
Sales of America the Beautiful 5 Oz. Silver Coins
ATB Silver Coins in Order of Release
Version
Investment-Grade Bullion (sales/mintage)
Collector Uncirculated (sales/mintage)
2011 Gettysburg National Military Park (Pennsylvania)
126,700/126,700
24,161/35,000
2011 Glacier National Park (Montana)
126,700/126,700
20,134/35,000
2011 Olympic National Park (Washington)
85,900/126,700
17,632/35,000
2011 Vicksburg National Military Park (Mississippi)
39,500/126,700
17,797/35,000
2011 Chickasaw National Recreation Area (Oklahoma)
29,700/126,700
16,033/35,000
2012 El Yunque National Forest (Puerto Rico)
19,900/To Demand
14,657/25,000
2012 Chaco Culture National Historic Park (New Mexico)
20,000/To Demand
12,002/25,000
2012 Acadia National Park (Maine)
22,300/To Demand
12,273/25,000
2012 Hawaii Volcanoes National Park (Hawaii)
20,000/To Demand
12,257/25,000
2012 Denali National Park (Alaska)
15,000/To Demand
6,905/25,000
The uncirculated silver coin sales above are as of Monday, November 12, 2012. The bullion sales figures are as of Wednesday, November 14, 2012.
Uncirculated coins are sold directly by the U.S. Mint to the public at http://www.usmint.gov/catalog.