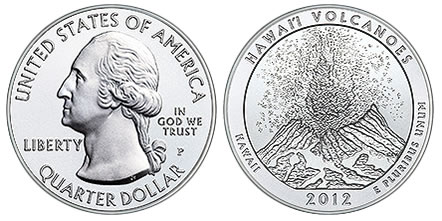 Starting United States Mint sales figures were stronger for the newly released 2012-P Hawaii Volcanoes National Park Five Ounce Silver Uncirculated Coin as compared to previous releases.
The Hawaii Volcanoes coin is a numismatic version with the special finish and "P" mint mark, and marks the fourteenth release within the series of America the Beautiful Five Ounce Silver Uncirculated Coins.
Introduced to the public on September 24 at a price of $204.95, one-week sales for the collector coin that has five ounces of 99.9% fine silver totaled 9,186 coins.
Supported by a distinctive design and lower premium as a result of higher silver prices, more collectors purchased the Hawaii Volcanoes five ounce coin during its starting days than any other release in the series this year.
As a comparison, debut sales for the immediate previous 2012-P Acadia National Five Ounce Silver Uncirculated Coin were 6,552. Prior to that, the 2012-P Chaco Culture Five Ounce Silver Uncirculated Coin started at 6,365. The 2012-P El Yunque Five Ounce Silver Uncirculated Coin opened with sales of 6,514.
These uncirculated coins are sold directly by the U.S. Mint to the public via http://www.usmint.gov/catalog.
The Mint also produces bullion versions intended for investors. They are identical to the uncirculated coins, with the exception of their finish, lack of mint mark and how they are sold. All bullion coins produced by the U.S. Mint are sold through a network of authorized dealers who buy in bulk and resell in smaller quantities. Investors and collectors will find them through coin and bullion dealers, not from the U.S. Mint.
For reference, the following grid provides the current sales figures for the bullion and uncirculated silver coins that are still offered by the United States Mint.
Sales of America the Beautiful 5 Oz. Silver Coins
ATB Silver Coins in Order of Release
Version
Investment-Grade Bullion (sales/mintage)
Collector Uncirculated (sales/mintage)
2011 Gettysburg National Military Park (Pennsylvania)
126,700/126,700
23,790/35,000
2011 Glacier National Park (Montana)
126,700/126,700
19,819/35,000
2011 Olympic National Park (Washington)
85,900/126,700
17,353/35,000
2011 Vicksburg National Military Park (Mississippi)
39,500/126,700
17,525/35,000
2011 Chickasaw National Recreation Area (Oklahoma)
29,700/126,700
15,767/35,000
2012 El Yunque National Forest (Puerto Rico)
17,900/To Demand
14,113/25,000
2012 Chaco Culture National Historic Park (New Mexico)
17,200/To Demand
11,332/25,000
2012 Acadia National Park (Maine)
18,000/To Demand
11,206/25,000
2012 Hawaii Volcanoes National Park (Hawaii)
10,400/To Demand
9,186/25,000
The uncirculated sales figures above are as of Monday, October 1, 2012. The bullion sales figures are as of Tuesday, October 2, 2012.