Last chance holiday gift-shopping at the United States Mint for the 2012-W Proof American Silver Eagle is off the table.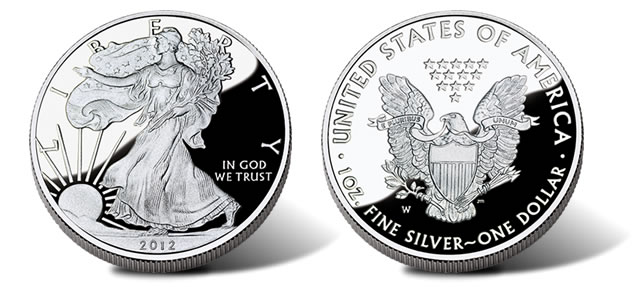 The U.S. Mint's most popular collector coin sold out this week with its online product page officially moved Wednesday to the "No Longer Available" section.
On Tuesday, the proof American Silver Eagle that launched back on April 12, 2012 was already labeled "sold out" and its buying options were removed. Interested collectors who still want one or more for themselves or for gifts will have to look for them on the secondary market.
2012-W Proof American Silver Eagle Sales
New sales figures sent to CoinNews.net Wednesday by the U.S. Mint did not offer an updated total. The sales report simply stated it was "NLA" for No Longer Available. When such is the case, the Mint is often silent in reporting the actual total for months to years.
Last week's report had the one-ounce American Silver Eagle surging 23,302 and topping the 800,000 milestone at 819,217. It was, as was often the case since its release, the Mint's top-selling collector product of the week. The last reported 819,217 sales total was effective as of November 5, 2012.
There is a strong likelihood that the 99.9% fine silver coins reached or came very close to 850,000. That was the individual sales total achieved by last year's coin, which also sold out suddenly in the month of November (on the 22nd). It had been available since June 30, 2011. Another 100,000 of the 2011-dated coins were sold within the American Silver Eagle 25th Anniversary Set.
Included in the grid below are West Point struck proof American Silver Eagle mintages or sales through the last several years. The totals include individual sales as well as those sold within sets.
| | |
| --- | --- |
| Year | Mintages / Sales Totals |
| 2005-W | 816,663 |
| 2006-W | 1,092,477 |
| 2007-W | 821,759 |
| 2008-W | 700,979 |
| 2009-W | No Proof Silver Eagles Minted |
| 2010-W | 860,000 |
| 2011-W | 950,000 |
| 2011-W | 819,217 |
There is one U.S. Mint product still for sale that includes a proof American Silver Eagle. Available for $72.95 is the Making American History Coin and Currency Set. It includes a San Francisco struck Eagle with a "S" mint mark and a Series 2009 $5 note beginning with a serial number "150." The set marks the 150th anniversary of the Bureau of Engraving and Printing (BEP) and the 220th year of service for the United States Mint. Its latest sales total as of Monday, November 14, 2012 stands at 45,430.