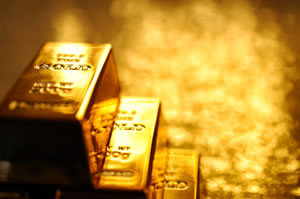 Gold, silver, other commodities and U.S. stocks traded higher Tuesday as the wait for election day ended and investors bet on the certainty of an outcome, one way or the other.
Gold for December delivery advanced $31.80, or 1.9%, to settle at $1,715.00 an ounce on the Comex in New York. Gold traded through intraday levels of $1,683.50 and $1,720.90.
"We do know this much," Reuters quoted Peter Kenny, managing director at Knight Capital in Jersey City, New Jersey. "Though the resident in the White House may change, the face of Washington is still going to be one of tremendous gridlock, discord and dysfunction, and markets are going to force Washington to come to terms with the dysfunction."
Silver for December delivery settled up 90.6 cents, or 2.9%, to $32.034 an ounce, trading between $31.070 and $32.275.
Platinum for January delivery rose $15.60, or 1.0%, to $1,558.30 an ounce, ranging from $1,539.10 to $1,564.50.
Palladium for December delivery shot up $17.15, or 2.8%, to $620.15 an ounce, trading between $610.75 and $621.65.
London Precious Metals
Precious metals in London were mixed. In contrasting the most recent London PM fixings:
Gold added $7.50, or 0.4%, to $1,691.00 an ounce,
Silver gained 49.0 cents, or 1.6%, to $31.40 an ounce,
Platinum lost $1.00, or 0.1%, to $1,543.00 an ounce, and
Palladium advanced $19.00, or 3.2%, to $617.00 an ounce
U.S. Mint Bullion Coin Sales in November
Sales levels were unchanged Tuesday for U.S. Mint bullion products. On Monday, sales of American Eagle silver coins jumped 800,000, more than each of the past four weekly totals.
The grid below lists the latest daily, November and year-to-date bullion sales figures as provided by the U.S. Mint.
US Mint American Eagle and Buffalo Bullion Coin Sales
Daily Sales
November Sales
YTD 2012
$50 American Gold Eagle Coin
0
18,500
483,000
$25 American Gold Eagle Coin
0
0
63,000
$10 American Gold Eagle Coin
0
0
66,000
$5 American Gold Eagle Coin
0
0
280,000
$50 American Buffalo Gold Coins
0
0
107,500
American Eagle Silver Coins
0
1,000,000
29,948,000
America the Beautiful 5 Oz. Silver Bullion Coin Sales
Daily Sales
November Sales
All-Time Total
2012 El Yunque National Forest 5 oz. Silver Bullion Coins
0
1,250
19,350
2012 Chaco Culture National Historical Park 5 oz. Silver Bullion Coins
0
1,250
19,450
2012 Acadia National Park 5 oz. Silver Bullion Coins
0
0
21,800
2012 Hawai'i Volcanoes 5 oz. Silver Bullion Coins
0
0
15,000
2012 Denali National Park 5 oz. Silver Bullion Coins
0
2,500
15,000
2011 Olympic National Park 5 oz. Silver Bullion Coins
0
0
85,900
2011 Vicksburg National Military Park 5 oz. Silver Bullion Coins
0
0
39,500
2011 Chickasaw Park 5 oz. Silver Bullion Coins
0
0
29,700
TOTAL
0
5,000
245,700