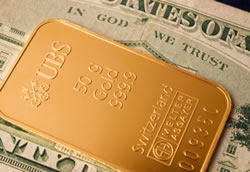 Gold surged to a seven-month high Thursday after the Fed announced that it has embarked on a third round of quantitative easing, nicknamed QE3.
Gold prices for December delivery advanced $38.40, or 2.2%, to close at $1,772.10 an ounce on the Comex in New York. Gold reached as high as $1,775.00. The settlement price was the highest for the yellow metal since its closing at $1,788.40 an ounce on February 28.
The FOMC ended its two-day policy meeting Thursday, and announced plans to purchase $40 billion in mortgage-backed securities each month in an attempt to shore up U.S. employment.
"Consistent with its statutory mandate, the Committee seeks to foster maximum employment and price stability. The Committee is concerned that, without further policy accommodation, economic growth might not be strong enough to generate sustained improvement in labor market conditions," the Fed said in its policy statement.

"If the outlook for the labor market does not improve substantially, the committee will continue its purchase of agency mortgage-backed securities, undertake additional asset purchases, and employ its other policy tools as appropriate until such improvement is achieved in a context of price stability," that statement added.
The Fed's latest purchase plan bolstered inflation worries as it has no stated ending date. Gold is traditionally bought as a hedge against inflation.
"They (the Fed) are emphasizing the growth mandate, and that means they don't care about inflation other than giving lip service to it," Reuters quoted Axel Merk, chief investment officer at Merk Funds, which has $600 million in currency mutual-fund assets. "The price of gold will do very well in the years to come," Merk said.
Silver for December delivery soared $1.486, or 4.5%, to settle at $34.778 an ounce. Silver traded from an intraday low of $32.72 to a high of $34.87.
Platinum and palladium on Thursday extended their winning sessions to nine straight.
Platinum prices for October delivery added $29.90, or 1.8%, to $1,679.50 an ounce, ranging between $1,639.00 and $1,691.40.
Palladium for December delivery gained $9.70, or 1.4%, to $689.00 an ounce, trading from $675.25 to $695.45.
London Precious Metals
London precious metals were mixed, having been fixed well before the Fed's stimulus announcement. In contrasting London PM Fix prices:
Gold declined $3.75, or 0.2%, to $1,733.25 an ounce,
Silver fell 93.0 cents, or 2.7%, to $33.00 an ounce,
Platinum added $15.00, or 0.9%, to $1,659.00 an ounce, and
Palladium gained $6.00, or 0.9%, to $684.00 an ounce
U.S. Mint Bullion Coins
Sales of U.S. Mint bullion coins were unchanged for a second straight day. The following grid offers the latest daily, September and year-to-date bullion sales as published by the U.S. Mint.
Sales of US Mint American Eagle and Buffalo Bullion Coins
Daily Gains
September Gains
YTD 2012
$50 American Gold Eagle Coins
0
19,000
366,500
$25 American Gold Eagle Coins
0
0
59,000
$10 American Gold Eagle Coins
0
0
58,000
$5 American Gold Eagle Coins
0
10,000
225,000
$50 American Buffalo Gold Coins
0
2,500
90,500
American Silver Eagle Coins
0
1,039,000
23,579,000
Sales of America the Beautiful 5 Oz. Silver Bullion Coins
Daily Gains
September Gains
All-Time Total
2012 El Yunque National Forest 5 oz. Silver Coins
0
0
16,700
2012 Chaco Culture National Historical Park 5 oz. Silver Coins
0
0
17,000
2012 Acadia National Park 5 oz. Silver Coins
0
0
15,100
2012 Hawai'i Volcanoes 5 oz. Silver Coins
0
7,900
7,900
2011 Olympic National Park 5 oz. Silver Coins
0
0
85,900
2011 Vicksburg National Military Park 5 oz. Silver Coins
0
0
39,500
2011 Chickasaw Park 5 oz. Silver Coins
0
0
29,700
TOTAL
0
0
211,800
All sales figures above are in the number of coins sold, not the amount of ounces sold.