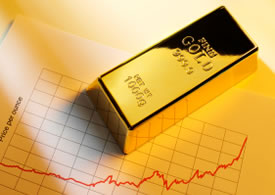 Gold rebounded from a seven-week low Thursday for its biggest gain since early in the month.
Gold for December delivery advanced $11.40, or 0.7%, to settle at $1,713.00 an ounce on the Comex in New York. Prices ranged between intraday levels of $1,702.30 and $1,718.90.
Central bank buying, a continuation of the Fed's easing policy and signs of improving demand from India were among factors analysts cited for gains. Central banks adding to their gold reserves included Brazil and Turkey, according to the IMF.
"More and more central banks are getting involved in the gold market," David Meger, the director of metal trading at Vision Financial Markets in Chicago, said in a telephone interview recounted on Bloomberg. "We are seeing some value buying after prices slumped, especially in India."
Gold on Wednesday had dipped below $1,700 an ounce for the first time since September 7. It had pared some losses in after-hours trading when the monthly FOMC policy statement said the Fed was staying the course with its stimulus plan.
"It is too early to tell yet if the October correction is over," MarketWatch quoted Mark O'Byrne, executive director at GoldCore. "But a higher close this week would suggest the recent dip is over and it is time to get into position for November, which is one of gold's strongest months."
Since the end of September, gold has declined $60.90 or 3.4%. Prices are up $146.20, or 9.3%, in 2012.
Silver for December delivery advanced 45.8 cents, or 1.5%, to $32.078 an ounce. Silver traded from a low of $31.735 to a high of $32.260.
Platinum for January delivery climbed $6.10, or 0.4%, to $1,568.80 an ounce, ranging from $1,563.50 to $1,587.80.
Palladium for December rallied $11.75, or 2.0%, to $604.50 an ounce, trading between $595.65 and $609.85.
London Bullion Prices
London precious metals were mixed, with platinum staying unchanged at $1,577.00 an ounce. When comparing the most recent London PM fixings across the other metals:
Gold declined $4.50, or 0.3%, to $1,706.50 an ounce,
Silver climbed 24.0 cents, or 0.8%, to $31.95 an ounce,
Palladium shed $1.00, or 0.2%, to $600.00 an ounce
U.S. Mint Bullion Coin Sales in October
Sales levels for U.S. Mint bullion coins remained unchanged for a second straight day Thursday after two previous days of solid gains. The following table provides the most recent daily, October and year-to-date bullion sales figures as published by the U.S. Mint.
Sales of US Mint American Eagle and Buffalo Bullion Coins
Daily Sales
October Sales
YTD 2012
$50 American Eagle Gold Coins
0
44,500
455,000
$25 American Eagle Gold Coins
0
1,000
62,000
$10 American Eagle Gold Coins
0
4,000
66,000
$5 American Eagle Gold Coins
0
25,000
275,000
$50 American Buffalo Gold Coins
0
10,000
106,500
American Eagle Silver Coins
0
2,584,000
28,379,000
Sales of America the Beautiful 5 Oz. Silver Bullion Coins
Daily Sales
October Sales
All-Time Total
2012 El Yunque National Forest 5 oz. Silver Bullion Coins
0
0
17,900
2012 Chaco Culture National Historical Park 5 oz. Silver Bullion Coins
0
1,000
18,200
2012 Acadia National Park 5 oz. Silver Bullion Coins
0
2,500
20,500
2012 Hawai'i Volcanoes 5 oz. Silver Bullion Coins
0
3,300
13,700
2012 Denali National Park 5 oz. Silver Bullion Coins
0
5,500
5,500
2011 Olympic National Park 5 oz. Silver Bullion Coins
0
0
85,900
2011 Vicksburg National Military Park 5 oz. Silver Bullion Coins
0
0
39,500
2011 Chickasaw Park 5 oz. Silver Bullion Coins
0
0
29,700
TOTAL
0
12,300
230,900
In related news, weekly sales figures for other United States Mint products are available. For those, read this coin news sales article.