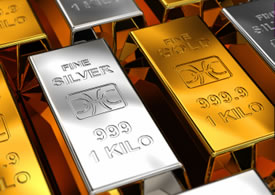 Gold fell from an eleven-month high Friday, trimming its first October weekly gain down to a modest 0.4%.
Other precious metals retreated on the day as well, yet the PGM's rallied for the week with platinum gaining 2.3% and palladium rising 3.5%. Silver was the lone metal lower this first October week, but barely, off half a cent.
On Friday, gold for December delivery declined $15.70, or 0.9%, to $1,780.80 an ounce on the Comex in New York. Intraday prices Friday traded between $1,774.50 and $1,798.10. Gold had settled near $1,800 an ounce on Thursday, which was its highest price since November 9.
"More and more people are going to anticipate inflation in the future because of quantitative easing and the amount of debt we've got in the system," Bloomberg quoted Frederique Dubrion, the Geneva- based president and chief investment officer of Blue Star Advisors SA. "We can print whatever amount of money we need, but you can't print gold. It's nobody's liability, it's a hard currency."
The yellow metal made gains on inflation expectations but was hurt Friday after news that the U.S. unemployment rate unexpectedly declined to 7.8% from 8.1%.
The payrolls data took some immediacy out of any additional Fed stimulus action. The falling premium in crude is also taking a big bite out of the inflation bid," Reuters quoted Frank McGhee, head precious metals trader of Integrated Brokerage Services LLC.
Gold Price Expectations
This year, gold prices are up $214.00 or 13.7%. Analysts and bullion traders are expecting further gains in the coming days, based on weekly gold survey from Kitco and Bloomberg.
In the Kitco News Gold Survey, out of 33 participants, 23 responded this week. Of those 23 participants, 18 see prices up, while three see prices down, and two are neutral or see prices moving sideways," reports Kitco News.

"Given the strength in gold this week, expectations by the majority of survey participants are that gold may try to target and take out the $1,800-an-ounce level next week…

Those who see weaker prices next week or are neutral on gold's price said since the yellow metal couldn't break through $1,800, it might be due for a correction in the short term…"
Bloomberg's survey was the most bullish in three weeks with 20 of 32 analysts expecting higher prices. Nine were bearish and 3 neutral.
Silver, Platinum and Palladium Futures
In other New York precious metals prices on Friday and for the year:
Silver for December delivery lost 52.9 cents, or 1.5%, to settle at $34.572 an ounce. The white metal traded from an intraday low of $34.315 to a high of $35.145. Silver remains the best performing precious metal this year with its 23.8% increase.

Platinum for January delivery fell $17.90, or 1.0%, to $1,707.20 an ounce, ranging from $1,704.50 to $1,734.50. Platinum has gained 21.5% in 2012.

Palladium for December delivery sank $11.55, or 1.7%, to $663.20 an ounce, trading between $658.55 and $637.55. The weakest of the metals so far this year, palladium is up 1.1%.
London Precious Metals Prices
London bullion prices were mixed Friday. When comparing London PM Fix prices:
Gold dipped $7.75, or 0.4%, to $1,784.00 an ounce,
Silver declined 11.0 cents, or 0.3%, to $34.85 an ounce,
Platinum added $11.00, or 0.6%, to $1,711.00 an ounce, and
Palladium climbed $5.00, or 0.8%, to $667.00 an ounce
The metals were all higher in the first October week with percent increases of 0.5% for gold, 0.6% for silver, 2.6% for platinum and 3.9% for palladium.
U.S. Mint Bullion Coin Sales for October and YTD
U.S. Mint distributors took the opportunity to purchase more than 1.2 million American Eagle silver bullion coins — one of the best weekly totals this year. Demand was down for the Mint's gold bullion coins, however, with total sales the lowest since mid-August. In breaking down weekly bullion sales:
Gold bullion coins climbed 11,000 ounces, which is down from the prior weekly gain of 18,500 ounces. Splits were 8,500 ounces in 22-karat American Eagle gold coins and 2,500 ounces of 24-karat American Buffalo gold coins.

Advancing only on Thursday, silver bullion coins still jumped by 1,233,000 ounces, improving over the previous week's exceptional gain of 1,149,000 ounces. Sales came from American Eagle silver coins. The Mint's America the Beautiful 5 Ounce Silver Bullion Coins are yet to enter the October sales boards.
In related coin news, the U.S. Mint did finalize its bullion sales for September. Sales of American Silver Eagles were the second highest this year, only behind January. September ranked 12th in all-time monthly sales, quite a feat given the series was introduced in 1986. September sales of American Gold Eagles were also the best since January, and they were 75.6% higher than the previous month.
The following grid offers the latest daily, weekly and October bullion sales figures as published by the U.S. Mint.
Sales of US Mint American Eagle and Buffalo Bullion Coins
Daily Sales
Prior Week
Weekly/October Sales
YTD 2012
$50 American Eagle Gold Coins
1,500
21,000
7,500
418,000
$25 American Eagle Gold Coins
0
1,000
0
61,000
$10 American Eagle Gold Coins
0
2,000
0
62,000
$5 American Eagle Gold Coins
0
15,000
10,000
260,000
$50 American Buffalo Gold Coins
0
1,500
2,500
99,000
American Eagle Silver Coins
0
980,000
1,233,000
27,028,000
Sales of America the Beautiful 5 Oz. Silver Bullion Coins
Daily/Weekly/October Sales
Prior Week
All-Time Total
2012 El Yunque National Forest 5 oz. Silver Bullion Coins
0
1,200
17,900
2012 Chaco Culture National Historical Park 5 oz. Silver Bullion Coins
0
200
17,200
2012 Acadia National Park 5 oz. Silver Bullion Coins
0
200
18,000
2012 Hawai'i Volcanoes 5 oz. Silver Bullion Coins
0
0
10,400
2011 Olympic National Park 5 oz. Silver Bullion Coins
0
0
85,900
2011 Vicksburg National Military Park 5 oz. Silver Bullion Coins
0
0
39,500
2011 Chickasaw Park 5 oz. Silver Bullion Coins
0
0
29,700
TOTAL
0
1,600
218,600
In coin news for collectors, the U.S. Mint on Wednesday suspended sales of silver coins as their melt values were getting closer to their listed prices. These products remain unavailable as of Saturday, October 6. They are expected to return at higher prices.