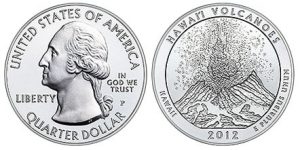 The United States Mint has only one numismatic product scheduled to launch in the final week of September, the collector 2012-P Hawaii Volcanoes National Park Five 5 Ounce Silver Uncirculated Coin.
Monday, September 24, marks the release date for the next three-inch diameter, 99.9% pure silver coin. Pricing for the new Hawaii Volcanoes coin remains $204.95, just like issues released earlier this year.
This massive yet beautiful coin represents the national park located in the state of Hawaii. It is the 14th strike overall in the America the Beautiful Five Ounce Silver Uncirculated Coin series. The U.S. Mint will accept orders online at the product page, located here, as well as by phone at 1-800-USA-MINT (872-6468). Sales will begin at 12:00 noon ET.
Forthcoming U.S. Mint product releases are shown in table below. At the time of this writing, only the Hawaii Volcanoes silver coin has been scheduled with an exact release date. All 2012 First Spouse Gold Coins have launch dates of To Be Determined (TBD).
| Release Date | U.S. Mint 2012 Numismatic Product | Product Price |
| --- | --- | --- |
| 09/24/2012 | Hawaii Volcanoes National Park 5 Ounce Silver Uncirculated Coin | $204.95 |
| TBD | Alice Paul First Spouse Gold Proof | TBD |
| TBD | Alice Paul First Spouse Gold Uncirculated | TBD |
| TBD | Frances Cleveland (first term) First Spouse Gold Proof | TBD |
| TBD | Frances Cleveland (first term) First Spouse Gold Uncirculated | TBD |
| TBD | Caroline Harrison First Spouse Gold Proof | TBD |
| TBD | Caroline Harrison First Spouse Gold Uncirculated | TBD |
| TBD | Frances Cleveland (second term) First Spouse Gold Proof | TBD |
| TBD | Frances Cleveland (second term) First Spouse Gold Uncirculated | TBD |