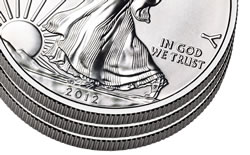 Gold dipped 0.1% Wednesday to register its first loss in three sessions. Profit-taking was cited as a main catalyst following sharp gains totaling $73.00 in August coupled with the more modest pick-up of $8.40 on Tuesday.
Gold for December delivery declined $2.00 to settle at $1,694.00 an ounce on the Comex in New York. Gold traded from an intraday low of $1,689.60 to a high of $1,698.40.
Factors on the horizon that are sidelining players and will affect gold prices during the next two days are the ECB policy meeting on Thursday and the U.S. jobs report on Friday.
"We're consolidating at higher levels" but investors are cautious ahead of the two key events later this week, said Charles Nedoss, a senior marketing strategist with Kingsview Financial in Chicago, according to MarketWatch. "There are no big bets ahead of that."
In other New York precious metals:
Silver prices for December delivery shed 8.2 cents, or 0.3%, to close at $32.329 an ounce. Silver bracketed intraday ranges of $32.00 and $32.43.

Platinum for October delivery settled at $1,575.60 an ounce, advancing $8.10 or 0.5%. Platinum ranged from $1,543.00 to $1,576.90.

Palladium for December delivery climbed $5.50, or 0.9%, to $646.95 an ounce, trading between $633.10 and $647.25.
London Precious Metals
Precious metals in London were mixed with narrow changes. When comparing London PM Fix prices:
Gold declined $7.00, or 0.4%, to $1,690.00 an ounce,
Silver added 2.0 cents, or 0.1%, to $32.10 an ounce,
Platinum gained $10.00, or 0.6%, to $1,564.00 an ounce, and
Palladium added $3.00, or 0.5%, to $641.00 an ounce
U.S. Mint Bullion Coins
U.S. Mint distributors scooped up more American Eagle gold and silver coins, but they were the only bullion products from the bureau to advance Wednesday. One ounce Gold Eagles increased 4,500 to 6,000 for September and Silver Eagles advanced 125,000 to 375,000 for the month.
The following grid offers daily, September and year-to-date bullion sales as published by the United States Mint.
Sales of US Mint American Eagle and Buffalo Bullion Coins
Daily Gains
September Gains
YTD 2012
$50 American Gold Eagle Coins
4,500
6,000
353,500
$25 American Gold Eagle Coins
0
0
59,000
$10 American Gold Eagle Coins
0
0
58,000
$5 American Gold Eagle Coins
0
5,000
220,000
$50 American Buffalo Gold Coins
0
500
88,500
American Silver Eagle Coins
125,000
375,000
22,915,000
Sales of America the Beautiful 5 Oz. Silver Bullion Coins
Daily Gains
September Gains
All-Time Total
2012 El Yunque National Forest 5 oz. Silver Coins
0
0
16,700
2012 Chaco Culture National Historical Park 5 oz. Silver Coins
0
0
17,000
2012 Acadia National Park 5 oz. Silver Coins
0
0
15,100
2011 Olympic National Park 5 oz. Silver Coins
0
0
85,900
2011 Vicksburg National Military Park 5 oz. Silver Coins
0
0
39,500
2011 Chickasaw Park 5 oz. Silver Coins
0
0
29,700
TOTAL
0
0
203,900
All sales figures above are in the number of coins sold, not the amount of ounces sold.
For a review of U.S. Mint bullion coin performances last month, read about August bullion coin sales.