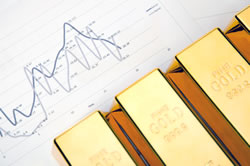 Gold turned slightly higher Friday to close out a humdrum trading week in which volume was thin and ranges confined.
Across the spectrum of precious metals this week, registered gains included 0.8% for gold, 0.9% for silver and 0.7% for palladium. Platinum stood alone with a 1.0% weekly loss.
On Friday, gold prices for December delivery climbed $2.60, or 0.2%, to settle at $1,622.80 an ounce. The yellow metal bracketed intraday levels of $1,606.60 and $1,629.70.
"There's a lot of money on the sidelines wanting to see if there's Fed action next month," MarketWatch quoted Matt Zeman, senior strategist with Kingsview Financial in Chicago. "Technically, gold is poised to move higher… The next big hurdle for gold to clear is $1,640-$1,645 an ounce."
Participants in major gold surveys are expecting higher gold prices as well.
"In the Kitco News Gold Survey, out of 32 participants, 19 responded this week. Of those 19 participants, 11 see prices up, while two see prices down, and six are neutral or see prices moving sideways," reports Kitco News.

"Those who see higher prices suggested that gold's ability to hold above $1,600 is helping the market to form a new bottom in the wider trading range of $1,550 to $1,640… Those who see lower prices said the lack of news and the lower volume gold has seen this month suggests that prices could fall."
Bloomberg's weekly survey showed participant splits of 15 bullish, 8 bearish and 7 neutral.
Gold is the best performing precious metal this year with its 3.6% increase.
Silver, Platinum and Palladium Futures
In other New York precious metals futures:
Silver prices for September delivery slipped 3.5 cents, or 0.1%, to close at $28.062 an ounce. Silver traded between $27.530 and $28.315.

Platinum for October delivery slumped $12.90, or 0.9%, to $1,399.90 an ounce, ranging from $1,392.20 to $1,414.50.

Palladium for September delivery was off $4.50, or 0.8%, to $582.20 an ounce, trading between $575.50 and $587.40.
For the year, silver is up a modest 0.5% while platinum and palladium are down 0.4% and 11.3%, respectively.
London Precious Metals
In London on Friday, gold was the only precious metal to advance. In contrasting London PM Fix prices:
Gold edged up $3.50, or 0.2%, to $1,618.50 an ounce,
Silver slipped 14.0 cents, or 0.5%, to $27.88 an ounce,
Platinum declined $12.00, or 0.9%, to $1,399.00 an ounce, and
Palladium lost $10.00, or 1.7%, to $578.00 an ounce
For the week, all metals gained with increases of 1.0% for gold, 2.3% for silver, and then slighter advances for the PGM metals with platinum up 0.6% and palladium adding 0.9%.
Sales of U.S. Mint Bullion Coins
Comfortable gains were logged across each of the major U.S. Mint bullion coins on Friday following three straight days of inactivity. In week-over-week comparisons, demand ticked higher for silver coins but weakened for gold coins.
For the week, sales included:
7,000 ounces of gold bullion coins versus the previous weekly pick-up of 11,500 ounces. Splits were 6,000 ounces of 22-karat American Eagle gold coins and 1,000 ounces of 24-karat American Buffalo gold coins.

742,000 ounces of silver bullion coins against the prior week's 581,500 ounces. In number of coins sold (not ounces), splits were 735,000 American Eagle silver coins and 1,400 America the Beautiful 5 Ounce Silver Coins.
The latest daily, weekly, August and year-to-date sales for U.S. Mint bullion products follow.
Sales US Mint American Eagle and Buffalo Bullion Coins
Daily Gains
Prior Weekly
Weekly Gains
August Gains
YTD 2012
$50 American Gold Eagle Coins
5,000
7,500
6,000
8,500
322,000
$25 American Gold Eagle Coins
0
0
0
0
56,000
$10 American Gold Eagle Coins
0
0
0
0
54,000
$5 American Gold Eagle Coins
0
15,000
0
5,000
195,000
$50 American Buffalo Gold Coins
1,000
2,500
1,000
3,500
82,500
American Eagle Silver Coins
150,000
510,000
735,000
915,000
20,585,000
Sales of America the Beautiful 5 Oz. Silver Bullion Coins
Daily Gains
Prior Weekly
Weekly Gains
August Gains
All-Time Total
2012 El Yunque National Forest 5 oz. Silver Coins
0
1,700
300
400
13,600
2012 Chaco Culture National Historical Park 5 oz. Silver Coins
0
1,600
300
400
7,800
2012 Acadia National Park 5 oz. Silver Coins
500
10,200
800
1,100
11,000
2011 Olympic National Park 5 oz. Silver Coins
0
200
0
0
85,500
2011 Vicksburg National Military Park 5 oz. Silver Coins
0
300
0
0
39,100
2011 Chickasaw Park 5 oz. Silver Coins
0
300
0
0
29,400
TOTAL
0
14,300
1,400
1,900
186,400
Above U.S. Mint bullion sales are in coin totals, not in amount of ounces sold.
In major U.S. Mint coin news this week, the bureau released its proof Platinum Eagle on Thursday and launched the Making American History Coin and Currency Set on Tuesday that included a unique $5 and 2012-S proof Silver Eagle.