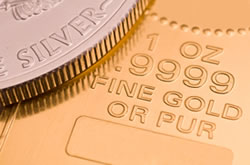 Gold rallied Friday, rising for the first time in four days and yanking prices back for a 0.8% weekly gain. Advances were credited to a weaker U.S. dollar and slowing growth in China, which spurred hopes of easing there and elsewhere.
"Chinese data was a bit worse than expected," Afshin Nabavi, a senior vice president at bullion refiner MKS Finance SA in Geneva, said by phone, according to Bloomberg. "Everything is pointing towards more easing. That obviously should be good for gold."
On Friday, gold prices for August delivery surged $26.70, or 1.7%, to settle at $1,592.00 an ounce on the Comex in New York. Prices ranged from an intraday low of $1,565.60 to a high of $1,596.50.
Higher Gold Prices Expected Next Week
Many traders and analysts are expecting gains to extend into the coming days. Kitco's weekly survey shows sentiments leaning toward higher gold prices next week after the prior survey had tilted bearish for this week.
"In the Kitco News Gold Survey, out of 34 participants, 19 responded this week. Of these, 10 participants see prices up, while four see prices down and five see prices sideways or unchanged…

George Gero, vice president and precious-metals strategist with RBC Capital Markets Global Futures, looks for traders to continue factoring in potential for more stimulus in the U.S., Europe and China.

Those who look for weakness cite the market's recent technical posture, with a series of lower highs so far this summer, as well as doubts that the Federal Reserve will be undertaking any more quantitative easing any time soon."
Bloomberg's survey results were a bit more evenly split, with 13 participants bullish and 10 bearish and five neutral.
Silver, Platinum and Palladium Futures
In other New York precious metals futures on Friday:
Rising for a third straight day, silver prices for September delivery advanced 20.8 cents, or 0.8%, to close at $27.369 an ounce. Silver intraday prices ranged between $27.060 and $27.550.

Platinum prices for October delivery closed at $1,435.20 an ounce, gaining $22.70 or 1.6%. Platinum traded from $1,414.70 to $1,436.00.

Palladium prices for September delivery added $10.85, or 1.9%, to settle at $585.65 an ounce. Palladium ranged from an intraday low of $577.90 to $586.00.
In weekly gains, silver advanced 1.7% and palladium climbed 0.9%. Platinum was the outlier in precious metals with its 1.0% weekly loss.
London Precious Metals
Precious metals in London were higher Friday but mixed on the week. When comparing the latest London PM fixings:
Gold added $39.25, or 2.5%, to $1,595.50 an ounce,
Silver jumped 81.0 cents, or 3.0%, to $27.48 an ounce,
Platinum rose $14.00, or 1.0%, to $1,424.00 an ounce, and
Palladium advanced $7.00, or 1.2%, to $581.00 an ounce
For the week, directional moves in London were the same as futures in New York. Platinum declined 1.8% while other precious metals marked gains of 0.5% for gold, 0.6% for silver and 0.7% for palladium.
U.S. Mint Bullion Coin Sales
Demand improved for U.S. Mint bullion coins. For the week, sales included:
11,000 ounces of gold bullion coins, which is a solid pick-up over last week's 7,000 ounces. Weekly sales of gold bullion coins included 10,000 ounces of 22-karat American Gold Eagles and 1,000 ounces of 24-karat American Gold Buffalo coins.

549,500 ounces of silver bullion coins, a marked improvement over the 375,000 ounces sold in the previous week. Weekly sales of silver bullion coins included 536,500 American Silver Eagles and 2,600 America the Beautiful 5 Ounce Silver Coins.
The following are the latest daily, weekly, July and year-to-date bullion coin sales totals as published by the U.S. Mint.
Sale of US Mint American Eagle and Buffalo Bullion Coins
Daily Gains
Prior Weekly
Weekly Gains
July Gains
YTD 2012
$50 American Gold Eagle Coins
3,000
6,000
10,000
16,000
301,000
$25 American Gold Eagle Coins
0
0
0
0
56,000
$10 American Gold Eagle Coins
0
2,000
0
2,000
54,000
$5 American Gold Eagle Coins
0
0
0
0
175,000
$50 American Buffalo Gold Coin
0
500
1,000
1,500
76,500
American Eagle Silver Coin
151,000
369,500
536,500
906,000
18,298,000
Sales of America the Beautiful 5 Oz. Bullion Silver Coins
Daily Gains
Prior Weekly
Weekly Gains
July Gains
All-Time Total
2012 El Yunque National Forest 5 oz. Silver Bullion Coins
900
100
1,300
1,400
11,300
2012 Chaco Culture National Historical Park 5 oz. Silver Bullion Coins
400
1,000
1,200
2,200
5,400
2011 Olympic National Park 5 oz. Silver Bullion Coins
0
0
100
100
85,300
2011 Vicksburg National Military Park 5 oz. Silver Bullion Coins
0
0
0
0
38,600
2011 Chickasaw Park 5 oz. Silver Bullion Coins
0
0
0
0
28,900
TOTAL
1,300
1,100
2,600
3,700
169,500
The above U.S. Mint bullion coin sales are in coin totals, not the amount of ounces sold. For a recap on the bureau's latest numismatic product performances, read the CoinNews.net article about weekly US Mint sales.