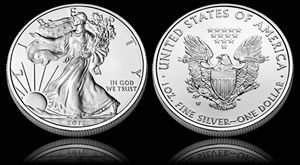 Next week will mark the first collector product released by the United States Mint in 20 days. Before the hiatus, the U.S. Mint had been in an almost constant launch mode. Only one new product will be hitting the market in early August, but things will get charged up at the bureau quickly with several more throughout the month.
Beginning on Thursday, August 2, 2012, the U.S. Mint will launch the 2012-W Uncirculated American Silver Eagle Coin. It will be the fifth 2012 American Silver Eagle, as it was preceded by a bullion, two proofs, and one reverse proof coin. The uncirculated strike will feature a "W" mint mark for the facility in West Point, New York. Like other collector pieces, it will be protected in a clear coin holder and housed in a blue presentation case with a Certificate of Authenticity.
Upon its launch, buyers will be able to place their orders through this U.S. Mint online product page. The coin will be $45.95, the same price as the 2011-dated strike on sale today. It should be noted, the price is subject to change due to its composition of 99.9% fine silver.
Sales will be accepted for the 2012-W Uncirculated American Silver Eagle coin starting at 12:00 noon ET on Thursday. For those who prefer to make their purchases over the phone, the U.S. Mint's Customer Service phone number is 1-800-USA-MINT (872-6468).
As alluded to, more product releases are scheduled in August and September from the United States Mint. They are listed in the table below.
Upcoming US Mint Numismatic Product Releases for August – September
| Release Date | U.S. Mint 2012 Numismatic Product | Product Price |
| --- | --- | --- |
| 8/02/2012 | 2012-W Uncirculated American Silver Eagle | $45.95 |
| 8/07/2012 | Making American History Coin & Currency Set | $72.95 |
| 8/09/2012 | 2012-W Proof American Platinum Eagle | TBD |
| 8/09/2012 | 2012-S Acadia San Francisco Quarters in Bags | $34.95 |
| 8/09/2012 | 2012-S Acadia San Francisco Quarters in Rolls | $18.95 |
| 8/13/2012 | Acadia National Park 5 Ounce Silver Uncirculated Coin | $204.95 |
| 8/16/2012 | Benjamin Harrison Presidential Dollar Rolls, Philadelphia | $32.95 |
| 8/16/2012 | Benjamin Harrison Presidential Dollar Rolls, Denver | $32.95 |
| 8/16/2012 | Harrison Presidential $1 100-coin Bags, Philadelphia | $111.95 |
| 8/16/2012 | Harrison Presidential $1 100-coin Bags, Denver | $111.95 |
| 8/16/2012 | Harrison Presidential $1 250-coin Boxes, Philadelphia | $275.95 |
| 8/16/2012 | Harrison Presidential $1 250-coin Boxes, Denver | $275.95 |
| 8/16/2012 | Harrison Presidential $1 500-coin Boxes, Philadelphia | $550.95 |
| 8/16/2012 | Harrison Presidential $1 500-coin Boxes, Denver | $550.95 |
| 8/27/2012 | Hawaii Volcanoes National Park Quarter Two-Roll Sets | $32.95 |
| 8/27/2012 | Hawaii Volcanoes Quarter Bags, Philadelphia | $34.95 |
| 8/27/2012 | Hawaii Volcanoes Quarter Bags, Denver | $34.95 |
| 09/04/2012 | Volcano Quarters Three-Coin Set | $9.95 |
| 09/06/2012 | 2012 Annual Uncirculated Dollar Coin Set | TBD |
| 09/24/2012 | Hawaii Volcanoes National Park 5 Ounce Silver Uncirculated Coin | $204.95 |
| TBD | Alice Paul First Spouse Gold Proof | TBD |
| TBD | Alice Paul First Spouse Gold Uncirculated | TBD |