Early ordered San Francisco minted 2012-S American Silver Eagle Two-Coin Proof Sets are shipping, updates in U.S. Mint customer orders show.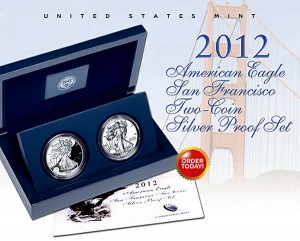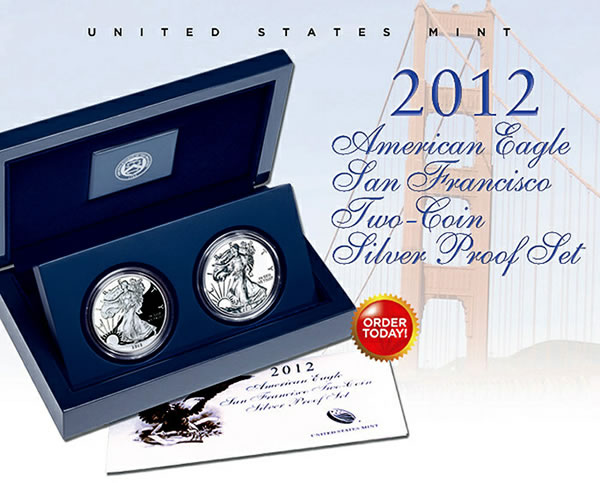 Customer account summaries for Two-Coin Proof Sets are beginning to show a status of "Your order request has been shipped," along with shipping dates and tracking numbers.
With last reported sales of 251,302, the U.S. Mint is expected to fulfill orders using a first-in, first out priority. It may be tweaking that process on a customer level to widen early distribution. In one customer case involving two separate orders, an order processed early for three sets was passed over in favor of shipping a single set from an order that was placed later in the day.
Whether that instance is part of the planned shipping process or happenstance, it is clear that those who purchased late will have to waiter longer. The U.S. Mint sold 2012-S American Silver Eagle Two-Coin Proof Sets from June 7, 2012 through to July 5, 2012. Orders placed toward the end of the sales period continue to show a status of "back-ordered" and an expected shipping date as late as October 31, 2012.
Deliveries of the sets could not come at a better time, with news of the American History Coin & Currency Set frustrating many collectors. This upcoming set will include a 2012-S Proof American Silver Eagle, a coin most expected as unique to the Two-Coin Proof Set.
Here are a few comments from CoinNews.net readers about including the American Silver Eagle in more than one set:
Bos: Wow, maybe I should go back to collecting Morgans, at least the mint won't pop a few more million of them out of the hat after previously closing out a specific ordering period for a product… If you are going to pull a flim flam like this and have a second ordering period, at least would have been advisable to fulfill the orders and collect the income from the first "limited edition" period. Can I hear the word "cancellation?"
RonnieBGood: If the Mint continues to issue coins without prior notification to collectors they will continue to alienate the collecting public. This "new issue" only adds to the approx. 250k "S" minted AE's that have been already been sold/issued. Look at the ATB quarter series. They now have 14 different ways to collect the 56 quarters that have been or will be issued in the "America The Beautiful" quarter series, wait, it's now 15 with the new "S" minted quarters. The Mint only seems to care about the profit these new iterations will bring these days. Did they mint far in advance of 251,000 coins sold and need a way to get rid of the extra? With all of these "new variations" the the Mint is only lessening the potential value that these coins may have in the future!
Stan: This certainly deserves a second look by collectors who ordered the San Francisco Two-coin Proof Set! Most collectors buy these coins for numismatic potential, and when the mint undermines that potential, they also undermine their credibility, which is questionable in the first place! As Bos indicated above, a cancellation may be in order.
bigT: Well here we go again. What is the mint thinking? We collectors and investors purchase a product within a specified period of time and make a personal decision as to our individual participation in a program only to have the mint come up with another way to market the product offering that is no longer being offered in a different format. They are playing with fire here and I real hope they get burned. All of us that have purchased the 2012 San Francisco set with an anticipated mintage of about 251,000 can look forward to several tens of thousands of additional coins being produced. Is it possible that the mint anticipated a larger number than the 251,000 coin orders for the 2 coin SF set and have to create another product to improve sales for the unsubscribed coin offering. What does mint to order mean? This is ridiculous and a total sham. If the mint were a private entity they would be sued for this kind of misrepresentation. I'm a long-time purchaser of mint products and at a substantial financial commitment. It is definitely time for all collector/investors to revolt against the mints misleading program offerings.
Additional comments are found at the end of this article.
Separately, Coin World reports that U.S. Mint officials have apologized for the lack of communication and that the second coin in the Two-Coin Proof set, the 2012-S Reverse Proof American Silver Eagle, will remain exclusive to it.