Thursday, April 19, 2012, the United States Mint issued four 2012-W Proof American Gold Eagle Coins and a Four-Coin Set. Their starting prices range from $215.50 to $3,585.50 since their sizes vary. The most expensive offering is the set containing all four proof coins.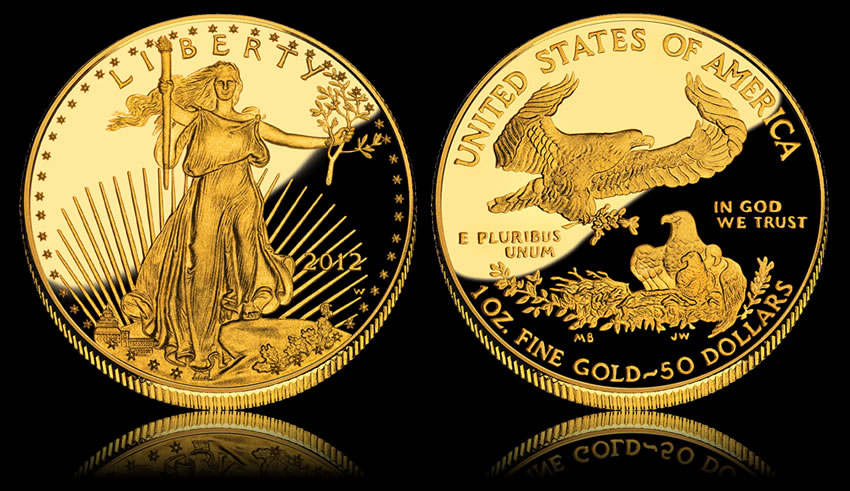 To place an order, visit the United States Mint product page which is located here, or call the bureau directly at 1-800-USA-MINT (872-6468). There are no household order limits in place for any of the products. A standard shipping and handling fee of $4.95 is charged on every domestic order.
American Gold Eagle coins contain 22-karat gold, the standard used for hundreds of years for gold coinage because of its durability, and the coins are made in four sizes. They are 1 ounce, 1/2 ounce, 1/4 ounce and 1/10 ounce.
Also, there are three versions: bullion, proof and uncirculated, although the uncirculated is only made in the one ounce size. Bullion coins are intended for investors while proof and uncirculated strikes are for coin collectors. The first two, bullion and proof, debuted in 1986, but the uncirculated came along later in 2006. The U.S. Mint released this year's bullion Eagles to their network of authorized dealers on January 3. Bullion coins do not have a mint mark nor do they have a special finish.
A few more characteristics setting the 2012 Proof Gold Eagles apart from bullion include their availability directly from the U.S. Mint to the public, the 'W' mint mark, which indicates production at West Point, and their special finish on both sides of each coin. The images have a frosted foreground and mirror-like background, thanks to multiple strikes per coin with special dies.
As mentioned in an article last week, mintages have been reduced for this year's proofs whereas bullion coin production is based on customer demand. Mintages and prices are in the table below.
2012 Proof American Gold Eagle Coins – Product Limits, Mintages, and Debut Prices
PRODUCT LIMIT
MINTAGE LIMIT
OPENING PRICES
1 oz ($50)
30,000
60,000
$1,935.00
1/2 oz ($25)
10,000
40,000
$981.00
1/4 oz ($10)
12,000
42,000
$503.00
1/10 oz ($5)
25,000
55,000
$215.50
4-Coin Set
30,000
N/A
$3,585.50
2012 Proof American Gold Eagle Coins are beginning with the highest prices in the series. Last year's strikes initially ranged from $195.50 to $3,215.50. The reason for the jump is the price of the yellow metal in today's market.
Prices of gold coins from the United States Mint fluctuate based on the London Fix. Every Wednesday, the bureau reviews the average price of gold and compares it to its pre-determined price grid. For their sales debut, the American Gold Eagle coins are based on a weekly gold average that falls between $1,650.00 and $1,699.99 per ounce. Should gold swing out of this range, the Mint will shift its coin prices higher or lower in certain increments for each coin size.
Since their introduction in 1986, all American Gold Eagles have shared the same designs. The obverse or heads side features the "Standing Liberty" design by Augustus Saint-Gaudens. It is a full-length figure of Liberty with flowing hair, holding out a torch in her right hand and an olive branch in her left. The image originally became famous when it was on the $20 Gold Eagle from 1907 until 1933.
The reverse or tails side features Miley Busiek's "Family of Eagles" design. In it, a male eagle in flight is carrying an olive branch above a nest with a female eagle and her two eaglets.
It should be noted that on the Gold Eagles the mint mark is placed on the obverse next to the "Standing Liberty" design under the year. For the American Silver Eagles, the opposite is true. The mint mark on collector Silver Eagles is placed on the reverse next to its eagle and shield. The 2012 Proof American Silver Eagle was released on April 12, 2012 at a price of $59.95.
Out of last year's offerings, four of the five products sold out before reaching their respective product and mintage limits and the same could happen this year. The 2010 issues were also removed early and did not hit their maximums. With the 2012's released, the 2011-W Gold Eagle Four-Coin Set still remains for sale.
As for the 2012 collector uncirculated American Gold Eagle, its product launch date has not been announced by the United States Mint as of this writing.