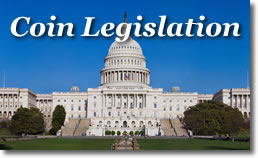 The fight against counterfeit coins has advanced in the United States Congress with the introduction of a new piece of legislation. Entitled the Collectible Coin Protection Act, H.R. 5977 was introduced on June 20, 2012 in the House of Representatives by Lamar Smith of Texas.
The proposed legislation seeks to amend the Hobby Protection Act currently in place. It would extend the act to make it unlawful to "sale in commerce" an imitation numismatic items without a plain "COPY" marking.
Current wording on the act makes it illegal for the manufacture or importation of counterfeit coins meant for commerce without the "COPY" mark. The additional proposed language would also consider the sale of such items as a deceptive act.
A recent move by executives of the Professional Coin Grading Service (www.PCGS.com) has pushed for additional protections for the numismatic industry against counterfeit coins. The grading service has seen a spike of unmarked replicas in recent years, especially from China.
"Chinese counterfeiting is the most serious challenge faced not only by the collectibles markets and brand name products, but also by the United States Treasury. Entire industries have sprung up in China to manufacture virtually anything made in American including U.S. Government issued coins," stated Don Willis, President of PCGS, a division of Collectors Universe, Inc.

"These factories and industries operate in the open and with the full support of the Chinese government. By its lack of action to stop the activities, the Chinese government endorses the counterfeiting of US coins."
A delegation of professional numismatists include PCGS employees was scheduled to meet this week with members of Congress to discuss the matter.
The online auction site of eBay addressed the issue earlier this year with a new policy. It disallowed listings for replica coins even if they contained the "COPY" marking. The new policy was initiated after some sellers were found to have shipped coins without the mark despite their listing indicating the coins would contain it.
Additional stipulations of the proposed Collectible Coin Protection Act would seek to make it a violation for "a person to provide substantial assistance or support to any manufacturer, importer, or seller if that person knows or consciously avoids knowing that the manufacturer, importer, or seller is engaged in any act or practice that violates" the law.
A final section would provide protection for the owners of registered trademarks belonging to a collectibles certification company by allowing them remedies under both the Hobby Protection Act as well as the Trademark Act of 1946.
H.R. 5977 has been referred to the Committee on Energy and Commerce. For it to become law, it must pass both the House of Representatives and the United States Senate as well as be signed by the President of the United States.