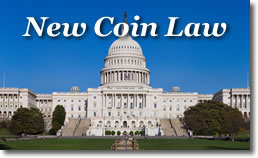 A new law strengthens the fight against counterfeit coins. Entitled the Collectible Coin Protection Act and numbered H.R.2754, the legislation was signed into law by President Obama on Friday, Dec. 19.
This law tightens provisions established by the Hobby Protection Act, which was enacted in 1973 and made it illegal to manufacture or import into the United States any imitation numismatic item that was not plainly and permanently marked "copy." Most notable from H.R.2754 is the inclusion of penalties not only for the distribution of, but also for the sale of prohibited items.
The law holds accountable all parties who are knowingly involved in a covered act, describes the Industry Council for Tangible Assets (ICTA):
"It adds a provision that gives 'teeth' to the Hobby Protection Act by allowing prosecution of any person who provides substantial assistance or support to any manufacturer, importer, or seller knowingly engaging in any act or practice that violates the Act."
Further stipulations outline that all steps in the counterfeiting process can be prosecuted — from manufacturing to shipping and sales, and that all parties may be held accountable no matter their location of business.
A final provision covers trademark violations of collectibles certification services and remedies available to owners of such trademarks.
While the Collectible Coin Protection Act will not eliminate the counterfeit coin problem, it is surely a step in the right direction.
H.R.2754 sailed through the U.S. Senate on Dec. 15, 2014 by unanimous consent. The U.S. House Representatives passed it by voice vote way back on July 30, 2013. A similar bill was introduced in the prior 112th session of Congress but it died from inaction.