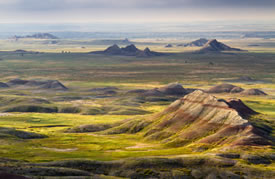 New legislation introduced in the U.S. House of Representatives would authorize National Park Service commemorative coins to celebrate the bureau's 100th anniversary.
H.R. 5840, entitled the National Park Service 100th Anniversary Commemorative Coin Act, was brought forward on May 18, 2012 by Rep. John J. Duncan, Jr., [R-TN2]. The bill would authorize the United States Mint to produce not more than 100,000 $5 gold coins, 500,000 silver dollars and 750,000 clad half dollars in calendar year 2016.
Designs on the commemorative coins would be emblematic of the NPS with each bearing the standard inscriptions of the year '2016', 'Liberty', 'In God We Trust', 'United States of America', and 'E Pluribus Unum'. Designs created by the U.S. Mint would get reviewed by the Citizens Coinage Advisory Committee and selected by the Treasury Secretary after consulting with the National Park Service, the National Park Foundation and the Commission of Fine Arts.
Coin specifications outlined within the bill are the same as used for other recent U.S. commemorative coins in gold, silver and clad.
Established in 1916, the National Park Service (www.nps.gov) is a bureau within the Department of the Interior to administer America's great national parks and monuments. Since then, the bill notes that it has grown from 37 park units with 6 million acres of land in the western United States to more than 395 units with 84 million acres of land in nearly all States and territories.
As is typical with legislation seeking commemorative coins, sales of each would include surcharges. H.R. 5840 specifies the standard amounts of $35 for each $5 gold coin, $10 per silver dollar, and $5 for each clad half-dollar.
Collected funds would be paid to the National Park Foundation (www.nationalparks.org) for "projects and programs that help preserve and protect resources under the stewardship of the NPS and promote public enjoyment and appreciation of those resources."
Language in the bill specifically states that the surcharges cannot be used to acquire more land.
There has been other U.S. commemorative coins and series that have features parks in their designs, like the site and park quarters and coins from the America the Beautiful Quarters® Program, but there has never been a coin specifically to honor the NPS.
For H.R. 5840 to become law, it must pass in the House and Senate and get signed by the President. The bill has been referred to the House Committee on Financial Services.