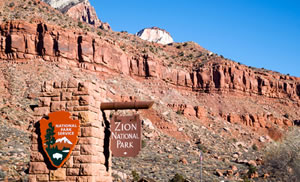 Commemorative coins celebrating the 100th anniversary of the National Park Service (NPS) will be struck and issued by the United States Mint in 2016. There will be three denominations produced, $5 gold coins, silver dollars and clad half-dollars, with each bearing designs emblematic of the centennial of the NPS.
Congress authorized the commemoratives as part of the Carl Levin and Howard P. 'Buck' McKeon National Defense Authorization Act for Fiscal Year 2015. The comprehensive 697 page bill became Public Law No: 113-291 when it was signed by President Obama on Dec. 19, 2014.
Both the U.S. House of Representatives and the U.S. Senate had introduced specific legislation in H.R. 627 and S. 1158 to authorize the coins. Neither bill was driven to law, however, with the authorizing text instead found in section 3055 of the above mentioned Act.
Public Law No: 113-291 authorizes up to 100,000 gold coins, 500,000 silver dollars and 750,000 clad half-dollars in collector qualities of proof and uncirculated. Their specifications will be identical to other recent issues from U.S. Mint commemorative coin programs
Final design selections will be determined by the Secretary of the Treasury. Officials at the National Park Service and the National Park Foundation are to be consulted with the Commission of Fine Arts and the Citizen's Coinage Advisory Committee tapped to review.
The U.S. Mint may only sell the coins in calendar year 2016. Their sale prices will include surcharge amounts of $35 per gold coin, $10 per silver dollar and $5 per clad half-dollar. Proceeds, as long as the coins make a profit, are to be paid to the National Park Foundation for projects and programs that "help preserve and protect resources under the stewardship of the National Park Service and promote public enjoyment and appreciation of those resources." They cannot be used for land acquisitions.
Established in 1916, the NPS (www.nps.gov) is an agency of the Department of the Interior and is tasked with managing and safeguarding more than 400 national parks throughout the United States and its territories.
Americans have heard about the agency and its conections to coins for several years now. Since 2010, designs depicting national parks and other national sites have appeared on America the Beautiful Quarters and the NPS has helped the U.S. Mint in introducing them to the public. The America the Beautiful Quarters series celebrates a site, at the rate of five each year, and it will last until at least 2021 when one location for each state, territory and the District of Columbia has been honored.
Also scheduled to appear in 2016 are the Mark Twain Commemorative Coins. They will be issued in gold and silver with designs emblematic of the life and legacy of Mark Twain.