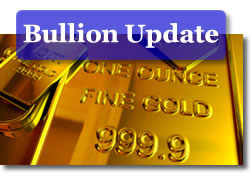 Gold prices advanced Thursday for the first time in a week and despite a stronger U.S. dollar which extended its rally to fourteen sessions.
Gold had been moving opposite of the greenback during most of its winning streak. Buying on the dip, improved physical demand and safe-haven interest were among factors cited for gold's gain.
"Since yesterday we have seen more interest come through from physical buyers … because prices have come down substantially," Reuters quoted Afshin Nabavi, head of trading at MKS Finance.

"But there is more upside than downside risk for gold at the moment as the political situation is very jittery with tension in Iran and economic problems especially in the euro zone. People will want to buy physical gold again. Those who went out since December are now waiting for prices to stabilize before getting in again."
Gold prices for June delivery advanced $38.30, or 2.5%, to $1,574.90 an ounce on the Comex in New York, rebounding from its lowest price of the year and gaining for the first time in five sessions. The yellow metal traded between an intraday low of $1,538.40 and a high of $1,579.80.
In other metal futures prices on Thursday:
Silver prices for July delivery surged 82.4 cents, or 3.0%, to $28.020 an ounce, moving between $27.175 and $28.295.

Platinum prices for July delivery advanced $21.20, or 1.5%, to $1,453.40 an ounce, ranging from $1,433.50 to $1,458.90.

Palladium prices for June delivery jumped $11.75, or 2.0%, to $605.85 an ounce, trading between $592.05 and $609.50.
London Precious Metal
Gains were also seen across London precious metals. When comparing the most recent London PM fixings:
Gold added $5.50, or 0.4%, to $1,554.00 an ounce,
Silver advanced 23.0 cents, or 0.8%, at $27.48 an ounce,
Platinum climbed $22.00, or 1.5%, to $1,449.00 an ounce, and
Palladium rose $12.00, or 2.0%, at $602.00 an ounce
U.S. Mint Bullion Coins
After several days of rallying gains, U.S. Mint bullion coin sales levels were unchanged Thursday.
The following are the available daily, May and year-to-date bullion coin sales totals as reported by the U.S. Mint.
U.S. Mint American Eagle and Buffalo Bullion Coin Sales
Daily Gains
May Gains
YTD 2012
American Gold Eagle Coins (1 oz.)
0
35,500
216,500
American Gold Eagle Coins (1/2 oz.)
0
0
51,000
American Gold Eagle Coins (1/4 oz.)
0
0
42,000
American Gold Eagle Coins (1/10 oz.)
0
5,000
140,000
American Gold Buffalo Coin (1 oz.)
0
5,500
61,000
American Silver Eagle Coins
0
1,410,000
13,069,000
America the Beautiful 5 Oz. Silver Bullion Coin Sales
Prior Weekly
Weekly Gains
All-Time Total
Olympic National Park 5 oz. Silver Coins
0
0
85,100
Vicksburg National Military Park 5 oz. Silver Coins
0
0
38,300
Chickasaw Park 5 oz. Silver Coins
0
0
28,900
TOTAL
0
0
152,300
All coin sales figures in the above tables are in number of coins, not in the amount of ounces sold. The U.S. Mint last updated five ounce bullion silver coins sold on Monday, April 9, indicating none have sold since.