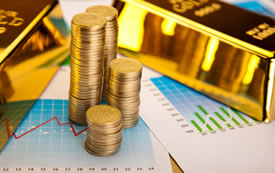 Gold fell by more than $20 to a six-week low Friday, deepening a weekly loss to 2.0%.
Other precious metals were hit harder on the day and week. The weakness did contribute to bargain hunting among United States Mint bullion products. U.S. gold coins, in particular, notched the highest weekly sales since mid-September.
On Friday, gold prices for December delivery slipped $20.70, or 1.2%, to $1,724.00 an ounce on the Comex in New York. The settlement price was the lowest since September 6. Trading volume was the heaviest since Monday with intraday prices ranging from a low of $1,716.00 to a high of $1,744.70.
"Gold remains defensive going into the weekend after a catalyst to drive the yellow metal above important resistance at $1,800/$1,802.89 failed to materialize," MarketWatch quoted Peter Grant, chief market analyst at USAGOLD.

"Disappointing U.S. earnings are adding additional weight to equities, which is resulting in some deleveraging pressures," he said. "Such pressures tend to support the dollar, and at least initially, suppress gold."
Market-watchers last week who were cautions about higher gold prices proved correct. Many analysts and bullion traders remain wary about prices next week, based on weekly gold surveys.
"In the Kitco News Gold Survey, out of 33 participants, 24 responded this week. Of those 24 participants, six see prices up, while 13 see prices down, and five are neutral or see prices moving sideways," reported Kitco News.

"Participants who see prices further decaying noted the change in trader attitude and a bearish short-term momentum for gold… Furthermore, those who are bearish on gold this week cite that October is seasonally the weakest month for metal…"
Bloomberg's gold survey was a touch more bullish. Ten participants forecasted higher gold prices in the upcoming days while 9 were bearish and 7 neutral.
Silver, Platinum and Palladium Futures
In other New York bullion prices on Friday and for the week:
Silver for December delivery plunged 77.1 cents, or 2.4%, to close at $32.097 an ounce. The white metal traded between $31.945 and $32.915. Silver's 4.7% weekly loss was the biggest of the precious metals.

Platinum for January delivery lost $28.20, or 1.7%, to $1,615.50 an ounce, ranging from $1,612.60 to $1,652.10. Platinum declined 2.6% this week.

Sister metal palladium fell 2.5% on the week. Palladium for December plummeted $24.20, or 3.7%, to $623.00 an ounce, ranging from $620.50 to $646.25.
For the year so far, gold has climbed 10.0%. It ranks behind silver and platinum which have each gained 15.0%. Palladium remains the sole precious metal lower in 2012 with its 5.1% loss.
London Precious Prices
London bullion prices were also lower Friday and for the week, although much more modestly overall compared to metals futures in New York. In contrasting the latest London PM fixings:
Gold shed $6.00, or 0.3%, to $1,737.00 an ounce,
Silver lost 66.0 cents, or 2.0%, to $32.33 an ounce,
Platinum declined $14.00, or 0.9%, to $1,633.00 an ounce, and
Palladium fell $9.00, or 1.4%, to $638.00 an ounce
London precious metals weekly losses were 1.7% for gold, 4.3% for silver, 2.7% for platinum and 1.8% for palladium.
U.S. Mint Bullion Coin Sales in October
As discussed in a coin news article on Thursday, October sales of U.S. Mint bullion coins have been very inconsistent compared to previous months. Increases have been limited to a few days instead of the typical many. This was the first week in October where advances in both silver and gold coins occurred on more than one day — on Tuesday and Friday. In breaking down weekly bullion sales:
Gold coins increased by 26,000 ounces against the prior week's 11,500 ounces. The total was the best since 26,500 ounces sold during the week ended September 14. Splits were 24,000 ounces in 22-karat American Eagle gold coins and 2,000 ounces of 24-karat American Buffalo gold coins. Gold Eagle sales in October have already surpassed the totals from February, April, July and August.

Silver coins rose by 632,500 ounces, above the very timid 177,500 ounces from last week. Splits were 608,500 ounces of American Silver Eagles and 24,000 ounces of America the Beautiful 5 Ounce Silver Bullion Coins. Boosted by the first week's increase of 1,233,000, Silver Eagle sales in October have now surpassed sales in February and April.
The following table provides the most recent daily, weekly, October and year-to-date bullion sales figures as provided by the U.S. Mint.
Sales of US Mint American Eagle and Buffalo Bullion Coins
Daily Sales
Prior Week
Weekly Sales
October Sales
YTD 2012
$50 American Eagle Gold Coins
10,000
8,500
23,000
39,000
449,500
$25 American Eagle Gold Coins
0
0
0
0
61,000
$10 American Eagle Gold Coins
0
0
2,000
2,000
64,000
$5 American Eagle Gold Coins
0
0
5,000
15,000
265,000
$50 American Buffalo Gold Coins
0
3,000
2,000
7,500
104,000
American Eagle Silver Coins
198,500
175,000
608,500
2,016,500
27,811,500
Sales of America the Beautiful 5 Oz. Silver Bullion Coins
Daily Sales
Prior Week
Weekly Sales
October Sales
All-Time Total
2012 El Yunque National Forest 5 oz. Silver Bullion Coins
0
0
0
0
17,900
2012 Chaco Culture National Historical Park 5 oz. Silver Bullion Coins
0
0
1,000
1,000
18,200
2012 Acadia National Park 5 oz. Silver Bullion Coins
2,000
500
2,000
2,500
20,500
2012 Hawai'i Volcanoes 5 oz. Silver Bullion Coins
800
0
1,800
1,800
12,200
2011 Olympic National Park 5 oz. Silver Bullion Coins
0
0
0
0
85,900
2011 Vicksburg National Military Park 5 oz. Silver Bullion Coins
0
0
0
0
39,500
2011 Chickasaw Park 5 oz. Silver Bullion Coins
0
0
0
0
29,700
TOTAL
2,800
500
4,800
5,300
223,900
In popular coin news this week, check out the coin designs for the 2013 5-Star Generals Commemorative Coins.