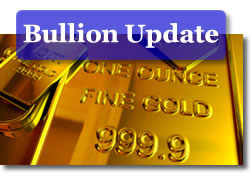 Gold and silver prices continued to drift lower Tuesday, but platinum closed higher for the first time in more than a week and palladium settled up for the first time since Thursday.
Gold was again pressured by a weaker euro and stronger U.S. dollar as the yellow metal fell to the lowest point in more than 4-1/2 months.
"(Gold's) safe haven status has been tarnished," Richcomm Global Services senior analyst Pradeep Unni said, according to Reuters. "It will wobble on the euro's weakness, but in a very short term, bargain hunting and pent-up demand will emerge taking it higher."
Gold prices for June delivery fell $3.90, or 0.2%, to $1,557.10 an ounce on the Comex in New York, marking a settlement that is the lowest since December 29. Prices ranged from an intraday low of $1,546.80 to a high of $1,564.40.
"The commodity sector is being hit with massive liquidation of funds as investors' fears regarding a slowing global economy and potential European sovereign issues trump all else," MarketWatch quoted Tom Essaye, editor of the 7:00's Report, a daily commentary on equity and commodity markets and the economy.

"Gold is getting to that critical level of support at $1,550, and if you can stand the risk, taking a shot there on the long side probably makes sense… As Europe continues to unravel, the prospect of a full blown crisis will increase, and I think you'll see gold start to absorb some of that money looking for a safe haven beyond the U.S. dollar."
In other metal futures prices on Monday:
Silver prices for July delivery declined 27.3 cents, or 1.0%, to $28.080 an ounce, trading between $27.895 and $28.430.

Platinum prices for July delivery advanced $3.90, or 0.3%, to $1,446.50 an ounce, moving from $1,434.90 to $1,454.60.

Palladium prices for June delivery gained $6.25, or 1.1%, to $601.10 an ounce, ranging from $591.00 to $605.70.
In regards to silver prices, Jim Wyckoff of Kitco News writes about the near-term technical aspects for it in the Tuesday Kitco Metals Roundup:
"July silver prices closed nearer the session low Tuesday and hit another fresh 4.5-month low. Silver prices are in a 2.5-month-old downtrend on the daily bar chart.

The silver bears have the solid near-term technical advantage. Bulls' next upside price breakout objective is closing prices above psychological resistance at $30.00 an ounce.

The next downside price breakout objective for the bears is closing prices below solid technical support at the December low of $26.50. First resistance is seen at Tuesday's high of $28.43 and then at this week's high of $29.00. Next support is seen Tuesday's low of at $27.90 and then at $27.50. Wyckoff's Market Rating: 3.0."
London Precious Metal
London precious metals made very narrow movements Tuesday, with palladium actually unchanged. When comparing the most recent London PM fixings:
Gold dipped $2.00, or 0.1%, to $1,556.50 an ounce,
Silver prices lost 5.0 cents, or 0.2%, at $28.28 an ounce,
Platinum added $1.00, or 0.1%, to $1,449.00 an ounce, and
Palladium was unchanged at $602.00 an ounce
U.S. Mint Bullion Coins
Weaker precious metals prices are beginning to support improved sales of U.S. Mint bullion coins.
Rising 150,000 on Tuesday, American Silver Eagle bullion coins have more than doubled their monthly total in the last two days. For a time, it appeared as if the 99.9% fine silver coins meant to challenge the weakest monthly sales since February 2008. That is no longer a worry, with current sales in May at 1,135,000. The silver pieces appear to be on track to at least top last month's sales (1,520,000) and those from February (1,490,000).
U.S. Mint distributors ordered 3,000 more ounces of 22-karat American Gold Eagle bullion coins. 500 of the ounces were for the smallest one-tenth ounce size, its first increase of the month. With 34,500 ounces claimed this month, the Eagles are on pace to make May the second best sales month in 2012.
For just the second time in May, 24-karat American Gold Buffalo bullion coins climbed Tuesday, up 500 to 1,500 for the month. The Mint's purest bullion coins have ground to make up, however, as even a tripling of the current amount would place monthly sales at the lowest level since February 2011.
The following are the available daily, May and year-to-date bullion coin sales totals as reported by the U.S. Mint.
U.S. Mint American Eagle and Buffalo Bullion Coin Sales
Daily Gains
May Gains
YTD 2012
American Gold Eagle Coins (1 oz.)
2,500
34,000
215,000
American Gold Eagle Coins (1/2 oz.)
0
0
51,000
American Gold Eagle Coins (1/4 oz.)
0
0
42,000
American Gold Eagle Coins (1/10 oz.)
5,000
5,000
140,000
American Gold Buffalo Coin (1 oz.)
500
1,500
57,000
American Silver Eagle Coins
150,000
1,135,000
12,794,000
America the Beautiful 5 Oz. Silver Bullion Coin Sales
Prior Weekly
Weekly Gains
All-Time Total
Olympic National Park 5 oz. Silver Coins
0
0
85,100
Vicksburg National Military Park 5 oz. Silver Coins
0
0
38,300
Chickasaw Park 5 oz. Silver Coins
0
0
28,900
TOTAL
0
0
152,300
All coin sales figures in the above tables are in number of coins, not in the amount of ounces sold. The U.S. Mint last updated five ounce bullion silver coins sold on Monday, April 9, indicating none have sold since.