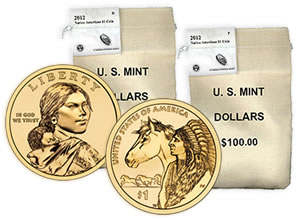 The United States Mint is offering more options to get 2012 Native American $1 Coins. 100-coin bags of the dollars were released Monday, May 14, for $111.95 per bag.
2012 Native American $1 coins have actually been available from the U.S. Mint within $1 rolls and boxes since April 26. Last month the U.S. Mint started offering 25-coin rolls for $32.95 each, 250-coin boxes for $275.95 each, and 500-coin boxes for $550.95 each.
The Mint's latest products come in two options — bags filled with dollars from the production floor of either Philadelphia or Denver, buyer's choice.
All of the products, including the new 100-coin bags, contain circulating quality dollars that are packaged for collectors because the U.S. Mint no longer produces $1 coins for regular commerce due to a surplus in government vaults.
Customers wanting to purchase dollar rolls, bags or boxes may do so directly from the U.S. Mint. The Native American $1 Coin online product page, located here, is one method, or customers may call the Mint's toll-free number at 1-800-USA-MINT (872-6468). There are no order limits, and a shipping and handling fee will be added to all orders.
Native American dollars have had annual rotating reverse designs starting in 2009. This year's image reflects, "Trade Routes in the 17th Century." The design features the profiles of a Native American in a headdress next to a horse, with horses running in the background. The depiction illustrates the historical spread of horses. It was designed by Thomas Cleveland and sculpted by Phebe Hemphill. Inscriptions are, "UNITED STATES OF AMERICA," and, "$1."
On the obverse is the portrayal of Sacagawea with her baby. Sacagawea was the Native American who helped Lewis and Clark explore the Louisiana Purchase some 200 years ago. It is the same design that has been used since 2000 and was designed by Glenna Goodacre. On it are the inscriptions, "LIBERTY," and, "IN GOD WE TRUST."
Inscriptions on the edge include the year of production, the mint mark to denote the city of origin, and "E PLURIBUS UNUM." These edge letterings are similar to Presidential $1 coins.