Beginning Thursday, May 10, at 8:00 AM ET, the Bureau of Engraving and Printing will make available 2012 $2 Single Notes from the Federal Reserve Bank of Kansas City.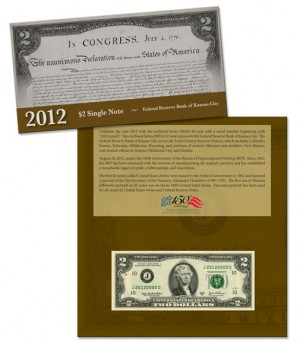 These Series 2003A $2 notes will only be available during calendar year 2012 with an absolute maximum of 9,000 offered.
Each of the bills features a serial number starting with "2012xxxxD" and comes within a protective, clear, acid-free polymer sleeve that is enclosed in an illustrated folder.
Pricing will begin at $7.95 per note, with a household ordering limit of 25 in place for the first two weeks. After that period and if the $2 single bills have not sold out, the BEP will accept bulk orders in quantities of 50 or more at a discounted price of $7.50 for each.
Money collectors can find more information on the notes, or place an order when released, by visiting the Bureau of Engraving and Printing online store at http://www.moneyfactorystore.gov/.
In past years, the bureau has offered collections of $2 singles which are representative of the various other Federal Reserve Banks around the United States. As of this writing, the bureau has not announced the possibility of forthcoming $2 bills from other banks.
About the Bureau of Engraving and Printing
August 29, 2012 marks the 150th Anniversary of the BEP. The Bureau of Engraving and Printing is the largest producer of security documents in the United States. It prints billions of Federal Reserve Notes for delivery to the Federal Reserve System each year. The BEP does not produce coins — all coinage is minted by the United States Mint.