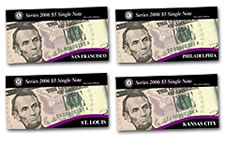 The Bureau of Engraving and Printing (BEP) is now offering the second installment of its $5 Lincoln Freedom Collection featuring crisp notes representative of Federal Reserve Districts located in San Francisco, Philadelphia, Kansas City and St. Louis. The price for each is $29.95.
The entire collection is also available through the BEP's Lincoln Freedom Subscription Program. For $299.40, each of the 12 Series 2006 $5 Notes will be shipped when available.
Aspects of the series include:
The lowest serial number available for each note
The fourth denomination to be redesigned in the "Color of Money" series
Protection within a clear, acid-free polymer sleeve
Housed within an attractive folder representative of the corresponding Federal Reserve District
The BEP will issue the final installment on September 1, 2009. The last release will includes notes representative of Richmond, Atlanta, Chicago, and Minneapolis.
For more information or to place an order, follow the BEP page: $5 Lincoln Freedom Collection (Second Installment).