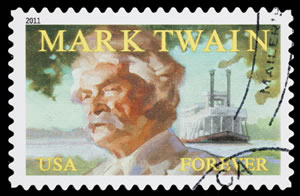 Commemorative coins honoring Mark Twain could be issued by the United States Mint in 2016, based on legislation which overwhelmingly passed in the House on Wednesday, April 18, 2012. Entitled the Mark Twain Commemorative Coin Act and numbered H.R. 2453, the bill sailed through the House almost without opposition by a vote of 408 to 4.
Under the terms of the proposed Act, the Secretary of the Treasury would be required to produce gold and silver coins in commemoration of Mark Twain, the noted 19th century author and humorist. Twain was the pen name of Samuel Clemens who was responsible for such American classics as The Adventures of Tom Sawyer and its sequel The Adventures of Huckleberry Finn.
The legislation, introduced by U.S. Rep. Blaine Luetkemeyer of Missouri, is the most recent attempt to see Twain celebrated through commemorative coins. Past attempts saw similar legislation introduced in both 2008 and 2009 with those bills dying from inaction.
"Mark Twain has been an important part of our country's history, and I'm honored that this bipartisan legislation will help preserve Twain's literary legacy and historic sites at no cost to hard-working taxpayers," said Luetkemeyer, of the Mark Twain Commemorative Coin Act. The Act "honors Twain's contribution to American history and his connection to the area where he was born and raised. I am also pleased that this legislation will help grow opportunities for Hannibal and surrounding communities."
Designs and Specifications for Mark Twain Commemorative Coins
According to the H.R. 2453, up to 100,000 proof and uncirculated $5 Mark Twain Commemorative Gold Coins would be issued along with a maximum of 350,000 proof and uncirculated Mark Twain Commemorative Silver Dollars. Both would feature designs "emblematic of the life and legacy of Mark Twain." Following a review by the Citizens Coinage Advisory Committee (CCAC), the final designs would be chosen by the Treasury Secretary after consultation with the United States Commission of Fine Arts (CFA) and the Board of the Mark Twain House and Museum.
Mark Twain Commemorative $5 Gold Coins would feature a diameter of 0.850 inches with a weight of 8.359 grams and a composition of 90 percent gold and 10 percent alloy. Mark Twain Commemorative Silver Dollars would have a diameter of 1.50 inches and a weight of 26.73 grams with a composition of 90 percent silver and 10 percent copper.
Surcharges and Status of Act
Like other modern commemorative coins, surcharges would be collected on the sale of each strike. This includes a $35 surcharge per gold coin and a $10 surcharge per silver dollar. Collected monies would get equally split between four different groups. Those four groups are the Mark Twain House & Museum in Hartford, Connecticut; the Mark Twain Project at the Bancroft Library of the University of California, Berkeley, California; the Center for Mark Twain Studies at Elmira College, New York; and the Mark Twain Boyhood Home and Museum in Hannibal, Missouri.
"Mark Twain is one of our nation's greatest scribes whose work has withstood the test of time and continues to remind Americans of where we have come as a people," stated Rep. John Larson, who cosponsored the Mark Twain Commemorative Coin Act. "These coins will help a new generation of Americans learn about Twain's contributions to Connecticut and our country by providing support for the institutions that work every day to honor his legacy."
H.R. 2453 is now in the hands of the Senate. Members there have the option to proceed with the House bill, ignore it and let it die, or pick up the Senate's own version, S. 1929, which was introduced last December by Senator Richard Blumenthal [D-CT] of Connecticut. After Congressional approval, the legislation would be forwarded to the President for his signature to become law.