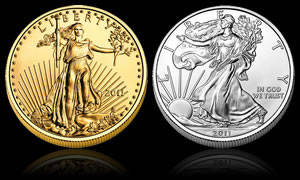 Tuesday, January 3, the United States Mint began taking orders for its 2012 American Gold Eagle and 2012 American Silver Eagle bullion coins.
Kicking off the new year on a high note, opening sales on day one jumped out of the gate. The United States Mint reported that it has already sold 3,197,000 of the .999 fine silver bullion coins and 37,500 ounces of the 22-karat gold bullion coins.
With bullion demand slumping in the last two weeks of 2011, buyers were obviously waiting on the sidelines for the new issues. The one-day January sales of the American Silver Eagle are higher than six distinct monthly totals from last year. But then again, the new year is known for scorching sales. Last year the United States Mint sold 6,422,000 Silver Eagles in January, pushing it up to the all-time best selling month going back to the series launch in October 1986.
The pace for the American Gold Eagle bullion coins are a bit calmer, with the fresh January total not yet passing any of the monthly sales figures from 2011. In the start, buyers ordered 20,000 of the one-ounce coins, 6,000 of the one-half ounce coins, 28,000 of the quarter-ounce coins and 75,000 of the tenth-ounce coins.
All of the above figures include a portion of 2011-dated issues. Last week the United States Mint said the year's remaining inventory would be sold with the 2012's. In addition to ordering requirements to make that happen, it announced two incentives. The 2011 American Gold Eagle one-half ounce and one-quarter ounce sizes are being let go at a discount of 2% and 3%, respectively, versus their typical premiums of 5% and 7%. All the remaining 2011-dated sizes, as well as the 2011 American Silver Eagle, are being sold along with orders of the 2012 counterparts on a 4:1 ratio basis.
The United States Mint does not offer bullion products directly to the public like it does with its numismatic issues. Instead, bullion coins are sold through a network of "Authorized Purchasers" who, in turn, resell them to interested parties. It will take a week or two before the new coins start flowing freely into the secondary market. While AP's have placed orders, they cannot pick-up any of the new issues from the Mint until Friday, January 6.