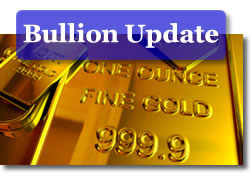 Gold ended lower for a third straight session Thursday, moving in tandem with U.S. stocks and most other commodities as the U.S. dollar attracted investors in what was termed a risk-off day.
MarketWatch recounts: "Gold sentiment is bearish right now, with $1,650 an ounce as the final line in the sand," said Adam Klopfenstein, a market strategist with Archer Financial in Chicago.

Gold tracked U.S. equities and other commodities, lumped together with investments considered riskier and behaving, as it has more often than not, as a "classic commodity," he said. "It got to a point in the U.S. recovery that we need to see numbers that beat expectations," otherwise riskier assets, gold included, are likely to suffer, Klopfenstein added.
Now the most active contract, gold futures for June delivery settled down $5.60, or 0.3%, to $1,654.90 an ounce on the Comex in New York. Gold prices traded from an intraday low of $1,646.70 to a high of $1,666.90.
Silver stood out among precious metals as the only one to rise. Silver prices for May delivery ended up 16.1 cents, or 0.5%, to $31.992 an ounce, trading between $31.63 and $32.18.
Palladium prices for June delivery declined $2.80, or 0.4%, to $644.55 an ounce, ranging from $641.20 to $655.00. Palladium is currently the worst-performing precious metal of the year, and the only one with a loss — registered at $11.60, or 1.8%. Some analysts see this changing.
"I like palladium the best among precious metals, it's relatively cheap compared to the others," Bloomberg quoted said Bart Melek, the head of commodity strategy at TD Securities Inc. in Toronto and the most accurate price forecaster tracked by Bloomberg Rankings in the eight quarters through the end of 2011. "Autocatalyst demand for palladium should grow. Russian government stocks will limit supply growth."
The new most active contract, platinum future prices for July delivery fell $12.30, or 0.7%, to $1,628.30 an ounce. The metal ranged from $1,626.20 to $1,650.00.
London Precious Metals
London precious metals were mixed Thursday with all but palladium retreating. When comparing the most recent London PM fixings:
Gold fell $18.50, or 1.1%, to $1,657.50 an ounce,
Silver prices declined 64.0 cents, or 2.0%, to $31.79 an ounce,
Platinum was off $1.00, or 0.1%, to $1,641.00 an ounce, and
Palladium advanced $2.00, or 0.3%, to $659.90 an ounce
U.S. Mint Bullion Coins
The U.S. Mint reported bullion gains across its most popular coins a well as its smallest coin. The one ounce American Eagles advanced modestly — 1,000 for the Gold Eagle and 30,000 for the Silver Eagle. The Mint's one-tenth ounce Gold Eagle added 10,000.
The following are the most recent daily, monthly and year-to-date bullion coin totals as provided by the U.S. Mint.
Sales of U.S. Mint American Eagle and Buffalo Bullion Coins
Daily Gains
March Gains
YTD 2012
American Gold Eagles (1 oz.)
1,000
57,500
162,000
American Gold Eagles (1/2 oz.)
0
2,000
51,000
American Gold Eagles (1/4 oz.)
0
0
40,000
American Gold Eagles (1/10 oz.)
10,000
40,000
130,000
American Gold Buffalo Coin (1 oz.)
0
26,000
46,500
American Silver Eagles
30,000
2,442,000
10,039,000
Sales of America the Beautiful 5 Oz. Bullion Silver Coins
Prior Weekly
Weekly Gains
All-Time Total
Olympic National Park 5 oz. Silver Coins
0
200
85,100
Vicksburg National Military Park 5 oz. Silver Coins
0
200
38,300
Chickasaw Park 5 oz. Silver Coins
0
0
28,700
TOTAL
0
400
151,700
All bullion sales in the above tables are in number of coins sold, not in the amount of ounces sold. The U.S. Mint has not sold five ounce bullion silver coins since Monday, March 26.