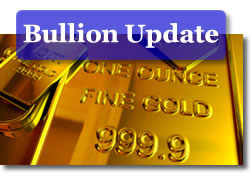 U.S. gold prices rebounded 0.9 percent Tuesday, recovering a portion of their previous day losses. The yellow metal also closed higher than platinum for a fourth straight session. Gains in gold were attributed to bargain and safe-haven buying.
"The debt crisis of euro-zone peripherals remains the dominant issue," Daniel Briesemann, an analyst at Commerzbank AG in Frankfurt, said in a report cited on Bloomberg. "Gold should remain in demand as a safe haven."
Gold prices rose $16.80 to $1,830.10 an ounce in the December futures contract on the Comex in New York. Gold prices moved between an intraday low of $1,794.80 and a high of $1,838.90.
Silver prices for December delivery jumped 97.6 cents, or 2.4 percent, to close at $41.193 an ounce. Silver traded from $40.090 to $41.285.
Platinum prices for October delivery rose $4.10, or 0.2 percent, to $1,813.50 an ounce. Prices ranged between $1,804.30 and $1,831.80.
"The platinum to gold ratio continues to hold below 1, which was last seen in December (2008)," Reuters quoted VTB Capital analyst Andrey Kryuchenkov in a note. "At the moment, platinum remains one of the best fundamental picks assuming the double dip scenario is avoided and equity markets rally again."

"Notably, global ETF holdings and CME net spec longs were hitting fresh record highs in platinum over the past week. Fundamentally, ongoing production constraints in South Africa and recovering automotive sector demand, as well as improving jewelry demand from Asia are all supportive."
Palladium prices for December delivery advanced $17.15, or 2.4 percent, to settle at $728.50 an ounce. Palladium traded from $706.20 to $729.95.
London Precious Metals
Earlier fixed precious metals were mixed in London, with gold prices also higher than platinum. In London Fix price comparisons between Tuesday (PM) and Monday (PM):
Gold prices declined $14.00 to $1,820.00 an ounce,
Silver retreated 79.0 cents at $40.02 an ounce,
Platinum advanced $5.00 to $1,815.00 an ounce, and
Palladium declined $2.00 at $721.00 an ounce.
U.S. Mint Bullion Coin Sales
The U.S. Mint reported a modest daily gain of 1,000 for the one-ounce American Gold Eagle bullion coin. American Silver Eagles climbed for a third straight day, advancing 200,000 to 901,000 for the month. Other bullion coin sales totals remained unchanged, as highlighted in the daily, September and year-to-date U.S. Mint published figures that are tabulated below:
Sales of US Mint American Eagle and Buffalo Bullion Coins
Daily
Gains
September
Gains
YTD
2011
Gold Eagle Coin (1 oz.)
1,000
18,500
691,000
Gold Eagle Coin (1/2 oz.)
0
0
61,000
Gold Eagle Coin (1/4 oz.)
0
0
70,000
Gold Eagle Coin (1/10 oz.)
0
5,000
325,000
Gold Buffalo Coin (1 oz.)
0
4,000
123,500
Silver Eagles (1 oz.)
200,000
901K
29.852M
Sales of America the Beautiful 5 Oz. Silver Bullion Coins*
YTD
2011
Gettysburg National Military Park 5 oz.
126,700
Glacier National Park 5 oz.
126,700
Olympic National Park 5 oz.
81,200
Vicksburg National Military Park 5 oz.
28,800
Chickasaw Park 5 oz.
17,500
TOTAL
381,200
*The Gettysburg and Glacier America the Beautiful Five Ounce Silver Bullion Coins are sold out. Unlike other investment-grade products, the United States Mint does not provide daily per coin sales totals for the Olympic, Vicksburg, and Chickasaw America the Beautiful Five Ounce Silver Bullion Coins. The individual totals are as of Friday, September 2, while the combined total is as of Monday, September 12.