Gold and silver climbed on Wednesday for the second straight day while platinum rose for the first time this week. A rallying U.S. dollar trimmed some of the yellow metal's earlier gains, and was cited as a catalyst in pushing crude-oil prices lower. U.S. stocks ended mixed.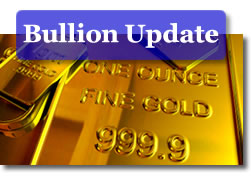 In New York trading futures for bullion:
Silver for July delivery climbed 6.5 cents, or 0.5 percent, to $13.91 an ounce.

Gold for August delivery gained $10.10, or 1.1 percent, to $934.40 an ounce.

July platinum rose $2.50, or 0.2 percent, to $1,167.90 an ounce.
The dollar "will provide direction in coming sessions," James Moore, an analyst at TheBullionDesk.com in London, was quoted on Bloomberg. "With the Fed expected to suggest it will keep rates very low for some time, we expect investors may again turn to stronger-performing assets such as commodities."
The Federal Reserve announced later that it would keep interest rates where they stood — between zero to 0.25 percent, which was the range first set back in December. The fed said deflation was less of a worry and that inflation would "remain subdued for some time."
"I would say it is neutral to maybe slightly positive (to gold), only in a sense that the Fed eliminated the deflation threat, so that was no longer an issue," Bill O'Neill, managing partner of New Jersey-based LOGIC Advisors, was quoted on Reuters.
In London bullion, the benchmark gold price was set earlier in the day to $933.50 an ounce, which was $12.75 higher than the fixing on Tuesday. Silver gained 11 cents to $13.88 an ounce. Platinum was fixed $4.00 higher to $1,173.00.
Gold, considered a hedge during times of high inflation and economic uncertainty, tends to follow oil and move opposite to the U.S. dollar. A rising greenback makes dollar-denominated commodities, like bullion, more expensive for holders of other world currencies.
Oil and gasoline prices
Oil futures fell Wednesday "as the U.S. dollar rallied against other major currencies after the Federal Reserve made no significant changes to its monetary policy statement," writes Polya Lesova and Moming Zhou of MarketWatch. New York crude-oil for August delivery lost 57 cents, or 0.8 percent, to close at $68.67 a barrel.
Prices at the pump declined for the second straight day and by the same seven-tenths of a cent. AAA said the national average for unleaded gasoline fell to $2.676 a gallon. The price is three-tenths of a cent lower than a week ago but 25.2 cents higher than last month.
U.S. Stocks
The Dow fell and the Nasdaq gave back gains Wednesday "after the Federal Reserve kept a key short-term interest rate near zero, but said nothing about expanding a program meant to keep long-term rates from spiking," writes Alexandra Twin of CNNMoney.
The Dow Jones industrial average lost 23.05 points, or 0.28 percent, to 8,299.86. The S&P 500 Index gained 5.84 points, or 0.65 percent, to 900.94. The Nasdaq Composite rose 27.42 points, or 1.55 percent, to 1,792.34.
Check out additional market resources at Live Bullion Spots, the Silver Coin Melt Calculator, U.S. Mint Collector Bullion Price Guide, and the Inflation Calculator.