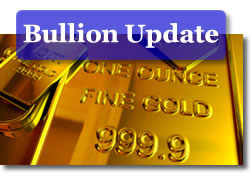 Gold rose Thursday for a second straight session as a lower U.S. dollar and improved risk appetite were among the factors analysts proffered for gains. The dollar was pressured as the euro rose on hope of a promising debt-swap deal with Greece.
"It finally looks as if Greece will pull through, and the sentiment overall is positive," Rick Trotman, a senior research analyst at MLV & Co. in New York, said in a telephone interview that was recounted on Bloomberg. "The risk-on mentality seems to be back for now."
Gold prices rose $14.80, or 0.9%, to $1,698.70 an ounce in the April futures contract on the Comex in New York. It was the biggest daily gain since February 23. Gold moved from an intraday low of $1,683.60 to a high of $1,704.80.
Silver prices for May delivery advanced 24.6 cents, or 0.7%, to $33.831 an ounce, trading between $33.360 and $34.185.
Platinum and palladium performed the best of the precious metals. Platinum prices for April delivery tacked on $29.40, or 1.8%, to $1,656.70 an ounce, ranging from $1,630.30 to $1,662.80. Palladium prices for June delivery settled up $14.10, or 2.1%, to $699.45 an ounce, moving between $685.65 and $704.70.
London Precious Metals
Earlier fixed London precious metals gained as well. When comparing the London PM fixings from Wednesday to Thursday, gold added $12.50 to $1,690.00 an ounce, silver advanced 92.0 cents to $34.09 an ounce, platinum climbed $7.00 to $1,634.00 an ounce, and palladium added $18.00 to $696.00 an ounce.
U.S. Mint Bullion Coins
Gold bullion was in demand Thursday, based on sales increases of U.S. Mint gold coins. The Mint's one ounce Gold Buffalo and one-tenth ounce Gold Eagle had matching daily increases of 5,000. The largest one ounce Gold Eagle also added 1,500.
The following are the most recent daily, monthly and year-to-date sales of U.S. Mint bullion coins.
Sales of U.S. Mint American Eagle and Buffalo Bullion Coins
Daily Gains
March Gains
YTD 2012
American Gold Eagle Bullion Coin (1 oz.)
1,500
16,000
120,500
American Gold Eagle Bullion Coin (1/2 oz.)
0
0
49,000
American Gold Eagle Bullion Coin (1/4 oz.)
0
0
40,000
American Gold Eagle Bullion Coin (1/10 oz.)
5,000
5,000
95,000
American Gold Buffalo Bullion Coin (1 oz.)
5,000
12,000
32,500
American Silver Eagle Bullion Coin
0
695,000
8,292,000
Sales of America the Beautiful 5 Oz. Silver Bullion Coins
Prior Weekly
Weekly Gains
All-Time Total
Olympic National Park 5 oz. Silver Coin
0
0
84,600
Vicksburg National Military Park 5 oz. Silver Coin
0
0
37,300
Chickasaw Park 5 oz. Silver Coin
0
300
28,400
TOTAL
0
0
150,300
All bullion coin totals in the above tables are in the number of coins sold, not in the amount of ounces. The U.S. Mint rarely publishes daily sales figures for its biggest five-ounce silver coins. These latest sales are as of Monday, February 27, 2012.